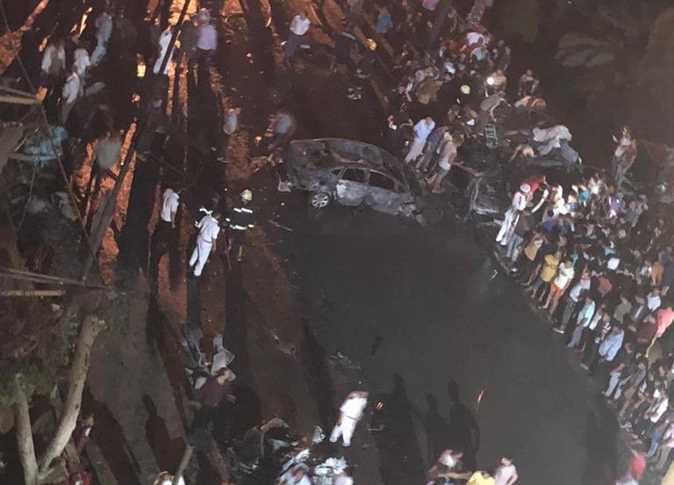 The UAE's Sheikh Mohammed bin Zayed donated LE50 million towards Egypt's National Cancer institute (NCI) to restore its facilities after a terrorist attack took place near the building on Sunday, August 4 at midnight.
TV presenter Amr Adib launched a donation campaign yesterday live on his TV program "Al-Hekaya" (The Story) on MBC Misr Channel, collecting around LE72 million from several public figures including businessmen, along with Zayed's donation in addition to donations from governmental and non-governmental entities.
Prominent Egyptian businessmen including Naguib Sawiris, Ahmed Abu Hashima and more informed Adib on air that they will also donate to secure renovations for the institution.
Sawiris as well as Abu Hashima donated LE1 million while an anonymous businessman came forward with LE500,000. Adib added that the Dar-al Orman Charity contributed LE10 million LE, while al-Garhy for Steel donated LE3 million.
Egypt's Minister of Solidarity Ghada Wali said a phone interview on Al-Hekaya that the Nasr bank also donated LE5 million.
The founder of Ahl Masr, a non-profit organization for victims of burn injuries said in a phone interview with Adib that the NGO will cover for all the required cosmetic surgeries for the victims and stressed on Ahl Masr's full support.
Meanwhile, TV presenter Iman al-Masry launched a similar donation campaign on her program encouraging viewers to donate, with donors coming in such as the Chairman of the Talaat Mostafa Group for constructions, Hesham Talaat Mostafa.
Mostafa offered LE10 million through the campaign to help refurbish the NCI.
Egyptian presenter Ahmed Moussa revealed on his program "Ala Masoulity" (On My Responsibility) on the Sada al-Balad Channel that channel owner Mohamed Abol Einien, vowed to provide the institution with all needed ceramics during the restoration process.
The Egyptian Network for Cancer in the US offered up LE1 million to help out.
Donations of LE5 can be given by sending SMS "777" on 9797 or by number "777" through the Fawry network. In addition, any financial amounts can be transferred to the "777" bank account through all Egyptian banks.
Donations from outside Egypt are received through the NCI's official website. For more inquiries, questions are received on the hotline 19514.
A terrorist attack took place in Cairo, close to the NCI, killing 20 and leaving around 50 with serious injuries. The Egyptian Interior Ministry said in an official statement that a vehicle carrying explosives collided with three others.
The Ministry said that the bomb car was transporting the explosives was preparing for a terrorist attack, and the statement added that the terrorist Islamist group Hasm is behind the attack.