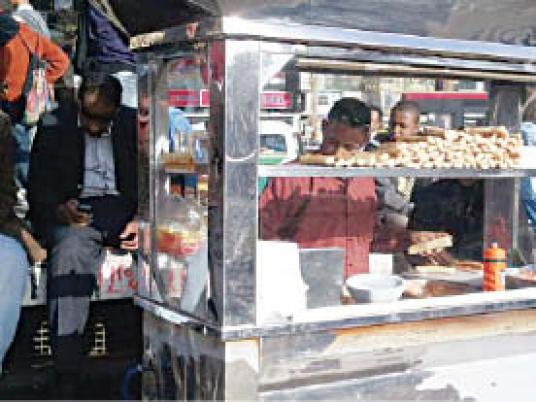 In Egypt, street food is more than the diet of the poor. It is a passion, an art, and for many, a serious addiction. On a small side road, off Dokki Street, by the Sednawy store lies a small glass and metal cart with a banner glued on the wall behind it that reads "Ezz el-Menoufi since 1976."
Menoufi specializes in oriental sausages and liver sandwiches. Work on the cart begins in the afternoon between 5 and 6 pm, and may continue until the early hours of the morning. Freshly cooked deep dishes of food are placed regularly; but the queues can be long and the wait can last 30 minutes.
A handful of staff members roam around the cart and share the roles of cooking, cutting bread and taking orders. All servers are dressed in neat blue polo-shirts with Ezz el-Menoufi's logo on the back.
The area around the cart is a hang out. Families and groups of young men stand, feasting on their mini sandwiches and sipping on sodas to extinguish the fire of the chili sauce.
Five of the small sandwiches, served in small plastic plates, make a decent meal for an average adult. Given how spicy they are, the mini delights are not for the faint of heart. The sausages are juicy and piquant, the mélange of relish balances the taste of the meat and creates an irresistible aroma. Minced oriental sausages are also available — similar to American chili but in a sandwich.
The beef liver is done the Alexandrian way, mixed with green pepper and onions. However, these double-deckers are mini bombs that explode in your mouth. Such a meal is not recommended for those with colon problems: the spiciness numbs your taste buds after a few bites, but the sandwiches are simply addictive. The shredded liver is tender and melts in the mouth. Each batch of five sandwiches are wrapped in paper and put in a clean plastic bag with a small pack of Egyptian pickles (torshy).
Ezz el-Menoufi is definitely a recommended experience…bon appetit!
Ezz el-Menoufi; Address: Cart at the intersection of Dokki and Iran Streets; Hours: 5:30 pm – 5 am daily.
This piece was originally published in Egypt Independent's weekly print edition.