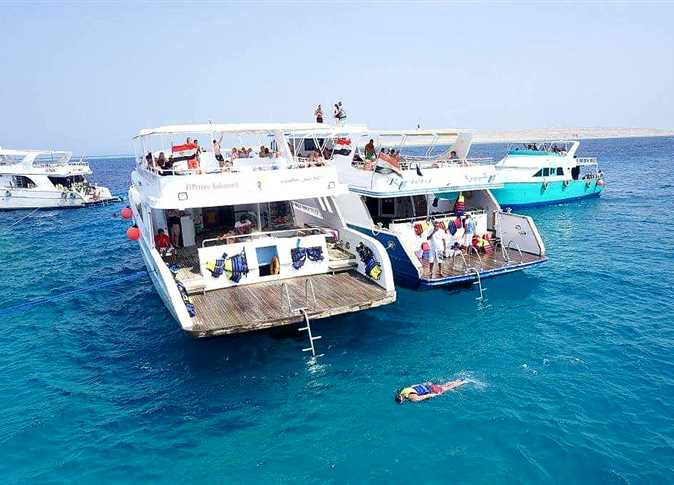 The Red Sea Protected Area will begin collecting fees from visitors in implementation of the Ministry of Environment's decision 204 of 2019.
The areas included in this decision are Wadi al-Gemal in Marsa Alam, Jabal Elba, and the Hamata Islands, also known as the remote islands of the Red Sea.
The Chamber of Diving and Watersports (CDWS) rejected the decision, saying it would resort to court. Numerous other owners of tourist boats and diving centers in Hurghada also slammed the decision and threatened to stop organizing diving trips.
Minister of Environment Yasmine Fouad defended the move, saying that its goal was to manage the reserves more professionally.
Legal disputes arose between the board of directors of the CDWS and the ministry over the ministry imposing fees on areas outside the borders of the nature reserves.
The CDWS said that increasing costs on tourists coming to Egypt will send them to competing tourist destinations, which will harm the already faltering tourism sector.
Jabal Elba and the Hamata Islands do not fall under the authorization of the Environment Ministry, the CDWS added, thus it has no right to impose entry fees on the two areas.
The CDWS, in partnership with a number of companies owning diving centers, yachts, and hotels filed a lawsuit, demanding the cancellation of the ministry's decision.
The court set December 8 to consider the case.
The decision set the fees for daily visits from eight am until sunset, while visits after sunset see all categories of fees doubled.
Fees were set at five dollars for foreigners and at LE25 for Egyptians. Children less than seven years old were exempted from paying fees.
Large car fees were set at $10 for foreigners and LE50 for Egyptians, while smaller car fees were set at LE25.
According to the new decision, $10 will be charged for diving and snorkeling yachts from 17 to 20 meters long, $20 on yachts from 20 to 25 meters long, $40 on yachts from 25 to 30 meters long, and $60 on yachts over 30 meters long.
Edited translation from Al-Masry Al-Youm