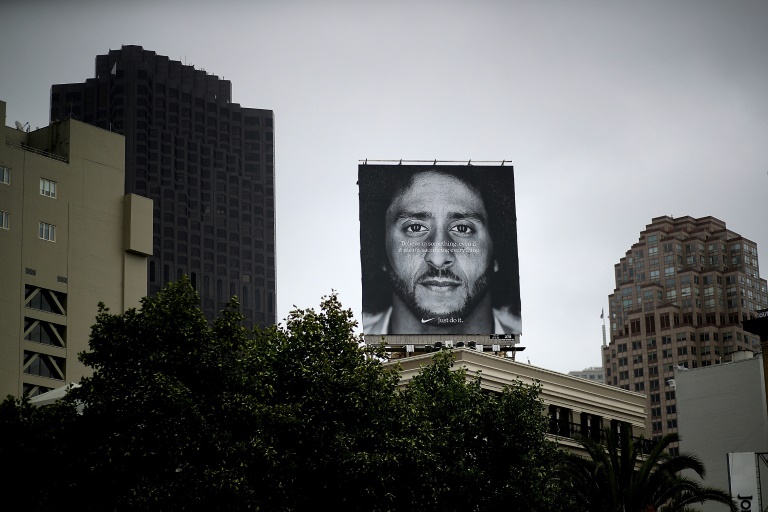 Nike's unexpected move this week to feature Colin Kaepernick in a major ad campaign met instant condemnation in some circles, with critics destroying their Nike garb in protest.
The reaction was hardly surprising following boycotts of Dick's Sporting Goods by NRA supporters due to its gun control stance and of Macy's and other stores over carrying Ivanka Trump's now-defunct clothing line.
There is even precedent within Nike's sector for customer blowback, with some consumers burning their New Balance shoes after a company executive lauded US President Donald Trump's trade policies and Under Armour garnering criticism when its chief executive praised Trump.
Despite the backlash, Nike's embrace of civil rights activist Kaepernick was seen as deepening the brand's appeal to millennials and non-white consumers. Many marketing experts saw it as a shrewd cost-benefit calculation in a politically divided, Trump-era United States.
Companies are increasingly "willing to lose a few to gain a lot," said Scott Farrell, leader of the brand reputation group at Golin, a public relations firm.
Brands have long tailored images and phrases to appeal to core consumer groups, implicitly ranking some parts of the population higher than others.
But companies also have a tradition of seeking the broadest possible audience, a practice that still governs many brands, even as others — like Nike — speak out in ways that are almost certain to alienate some customers.
"Whereas in the past, marketers would always look for win-win situations, that is practically an impossibility today," Farrell told AFP.
"That is just a needle that is too difficult to thread," he added. "You are going to be dealing almost all of the time in some degree of a win-lose situation and the lose part of it has to be part of your strategy as well."
Hit to sales?
Corporations were becoming more socially focused prior to Trump, with campaigns geared to consumers who care about gay rights, climate change policies and some other causes.
But the trend has accelerated since the November 2016 election of a US president who has unapologetically eschewed the traditional role of national unifier and instead courted his political base full time.
Technology behemoths like Apple and Microsoft have been outspoken critics especially of Trump's immigration policies, fighting measures that would see "Dreamers" — immigrants who were brought illegally to the United States as children — deported.
Much rockier has been the reception facing Dick's Sporting Goods, which announced in February after the school shooting in Parkland, Florida that it would remove assault-style rifles from stores and end all gun sales to consumers under 21.
Dick's cited "negative reactions from our customers and vendors" following the announcement as a reason for a "continuing decline in our hunt business," according to a quarterly securities filing.
But Dick's executives have also said the stance on guns attracted new customers who may benefit company sales in the long-term.
Delta Air Lines also found itself under fire from gun rights supporters after it ended a travel discount program for NRA members following Parkland. Politicians in the Georgia legislature yanked a tax break that could have saved Delta about $40 million a year.
However, in a victory for Delta, Georgia Governor Nathan Deal announced in July he would halt collection of the tax.
The company's chief executive, Ed Bastian, was also hailed by Fortune magazine among the "world's greatest leaders" for the Parkland response, in which he said, "Our decision was not made for economic gain, and our values are not for sale."
Major brands continue to take action on guns, with Levi's this week pledging financial and volunteer support for gun control efforts, saying business leaders "simply cannot stand by silently when it comes to issues that threaten the very fabric of where we live and work."
Preparing for blowback
David Armano, global strategy director at Edelman, said he urged brands to think hard before taking on hot-button issues directly, something many companies are still leery of.
"Most of them are hesitant," he said, adding that "there's an appetite for how can we more clearly act and communicate about the bigger things in life that we feel are right for our brand to talk about."
Such an approach can often lead brands to favor spots that are "culturally relevant without being culturally divisive," he said.
Brand reputation expert Farrell is currently reviewing ad campaigns for two companies with consumer products, advising the clients on whether to tweak the ads and how to prepare for any negative reaction.
Both campaigns "speak to diversity," Farrell said. "We've been asked to look at the creative through the lense of this polarized environment."
"In another time and place, they would be rather neutral," he said of the ads. "In today's environment, they're edgy by definition."