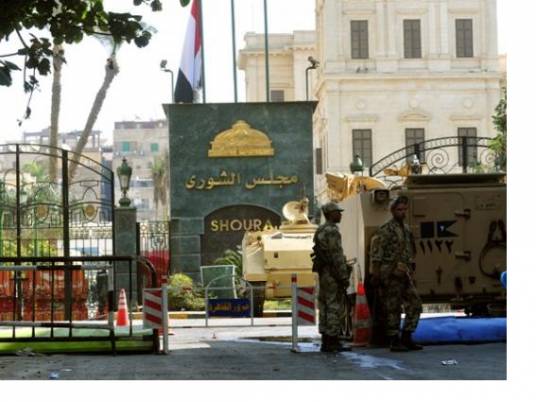 Members of Egypt's disbanded upper house, the Shura Council, met on Monday for an "extraordinary" session at the pro-Mohamed Morsy Rabea al-Adaweya sit-in.
Shura members convened to discuss what they described as "the military coup against [the] elected authority in Egypt."
The session was held at Rabea al-Adaweya mosque, where supporters of ousted President Mohamed Morsy have been staging a sit-in demanding the reinstatement of the president after the army removed him on 3 July.
The council, which had been controlled by an Islamist majority, was dissolved as part of interim President Adly Mansour's recent Constitutional Declaration.
Former council speaker Ahmed Fahmy said 140 members attended the session, the minum number required for the assembly to conduct legislative business, according to President Morsy's suspended November 2012 Constitutional Declaration.
"We will not be intimidated by tanks, or brutal force," Fahmy said. "Egypt's army is a patriotic army of the nation's sons and is able to defend Egypt's borders, and can never accept involvement in politics."
Fahmy said the "coup plotted in the dark" serves the interests of the "American and Zionist enemies of the nation."
Edited translation from Al-Masry Al-Youm