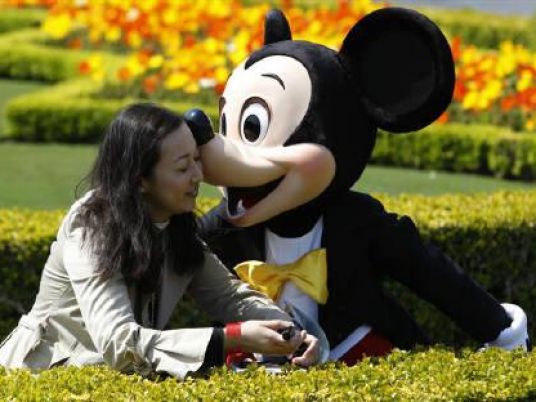 An outbreak of measles that popped up at Disneyland in late December soon spread to six other U.S. states, Mexico and Canada. Health officials suspect an infected traveler, who caught the virus overseas, visited the theme park and exposed others.
The outbreak sickened 147 people in the U.S., including 131 in California. No deaths were reported.
The California Department of Public Health on Friday declared the outbreak over after no new cases appeared in the last 42 days, or two incubation periods.
HOW IT STARTED
The identity of the person responsible for spreading measles at Disney theme parks in Southern California will likely forever remain a mystery. Because there haven't been homegrown measles cases in the U.S. for more than a decade, health experts believe the virus came from abroad where the airborne disease is still common.
The outbreak probably began with a cough or sneeze. Measles is highly contagious and spreads easily through the air and in closed spaces. Infected droplets can linger for up to two hours after the sick person leaves.
HOW IT SPREAD
Health officials said 42 people were exposed to measles while visiting or working at Disneyland in December. More than two dozen family members or close friends fell ill after coming into contact with the initial cases.
Other places were hit with the virus, including hospitals, malls, airports and schools. About 20 percent of patients were hospitalized.
There were cases where the source was unknown. Because the measles strain was the same, health officials consider them part of the Disneyland outbreak.
WHY IT GOT ATTENTION
Measles outbreaks are relatively rare in the U.S. Past outbreaks mainly occurred in communities with low vaccination rates.
The Disneyland outbreak occurred at a major tourist destination filled with visitors from around the globe. People who were infected at the theme parks then traveled home with the virus, where it continued to spread.
THE PUBLIC HEALTH RESPONSE
Disease investigators tracked down thousands of people potentially exposed to measles. Those considered at-risk received the measles-mumps-rubella vaccine. Sick patients were asked to place themselves in isolation until the infectious period passed. Schools sent unvaccinated students home.
Health experts said the quick response prevented the outbreak from getting worse.
"They did a tremendous job," said Dr .James Cherry, an infectious disease expert at the University of California, Los Angeles.
THE VACCINE DEBATE
The outbreak cast a spotlight on the anti-vaccine movement. Parents who oppose vaccines for their children for personal reasons found themselves on the defensive.
As infections mounted, several state legislatures tried to make it harder for parents to opt out of vaccinations.
In California, a bill that would prevent parents from seeking vaccine exemptions for their children because of personal beliefs generated heated discussion in Sacramento. A vote was delayed until next week.