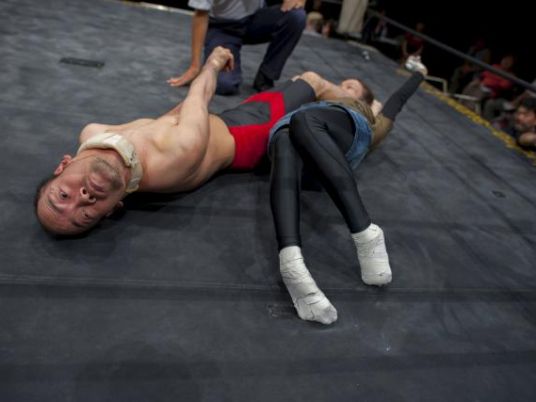 Filmmaker Heath Cozens hopes to smash stereotypes about the disabled with his new documentary "Doglegs," about a handicapped pro-wrestling league in Japan.
The New Zealand-born director discovered the wrestlers, who sometimes fight able-bodied opponents despite their physical and mental disabilities, while living in Japan for 18 years.
The film premiered at the Canadian International Documentary Film Festival in April.
Cozens said he wanted his first feature-length documentary to take the audience on the same emotional rollercoaster he felt when he saw a Doglegs match for the first time.
"I wanted to laugh, then I felt bad about myself wanting to laugh and ashamed," Cozens explained in an interview. "I just didn't know how I should feel about it."
"Doglegs" follows five members of the Tokyo league as they confront their disabilities and demons in the wrestling ring and in their personal lives.
The film shows fans cheering as fighters bash one another mercilessly and a female announcer spices up her commentary with personal details about the combatants.
Cozens said exploitation was a valid concern and initially he thought about doing an expose. But as he watched a match he saw what a positive environment it was and that they were changing peoples' attitudes about the disabled.
"I realized that what they are doing was performing brain surgery, heart surgery on the audience, changing the audience from inside out," Cozens said. "I felt the transformation."
Doglegs started in 1991 as a volunteer group for the disabled and morphed into its present form after two disabled men had a fight over a woman.
The skirmish gave the group's able-bodied volunteer leader Yukinori Kitajima the idea of forming a wrestling league that would challenge how the disabled are perceived.
"Doglegs" follows "Sambo" Shintaro, a sanitation worker with cerebral palsy and a star fighter for 20 years, as he approaches his retirement match against Kitajima.
Another fighter, Yuki Nakajima, who suffers from depression, seems to feed off the power he gets from climbing into the ring and facing down his demons.
"We have to keep fighting with our own weakness to move forward and get strong, even if we keep losing," Nakajima explained in an email.
Cozens, who now lives in New York, spent five years making the film that looks at disabilities in a new way.
"Handicap is in the eye of the beholder," he said.