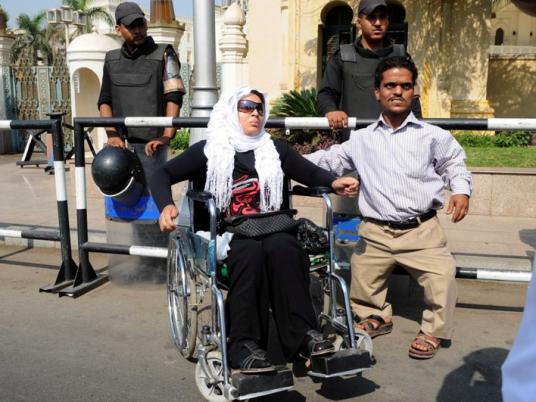 Dozens of disabled individuals are continuing their sit-in for the sixth day on Merghany Street, in front of Gate 4 of the presidential palace.
Security officers set up iron barriers and cordoned off the protesters.
Protesters refused to negotiate with Mohamed Fouad Gadallah, legal affairs adviser to the president, and demanded a meeting with President Mohamed Morsy.
The protesters had been attacked by security officers Sunday when they blocked a road in attempt to pressure authorities to respond to their demands.
The protesters demand the right to work within the 5 percent that should be allocated to them, in addition to their right to housing and a pension of LE1,500 for those who cannot work. They also want authorities to fully exempt them from paying customs fees on their cars.
The demonstrators raised banners saying that Morsy has the same policy as former President Hosni Mubarak, and chanted, "O people, the government has beaten the disabled."
Sobhy Abdel Maqsoud, one of the protesters, said they would file a complaint to the public prosecutor against Morsy, because he failed to meet their demands and punish presidential palace security after officers had beaten them several times during their sit-in.
He added that they have already filed a complaint against the palace security.
Edited translation from Al-Masry Al-Youm