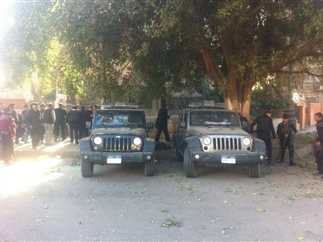 A device exploded under a car in the Turil district of Mansoura city, at dawn on Friday, damaging the vehicle as well as the glass of some nearby shops and cars.
According to police reports, civil protection forces and bomb squads moved to the scene and imposed a security cordon around the area.
The incident did not cause any injuries or deaths.
Reports specify that an Improvised Explosion Device (IED) detonated under a black Mercedes, parked in front of an exhibition of cars.
The explosion caused parts of the car to be smashed, as well as the glass facades of the exhibition, and the windows of nearby cars.
Officers of the Criminal Investigation Department in Daqahliya and national security officers began examining the surveillance cameras on the street and the surrounding area, to help determine the perpetrator or cause of the explosion.
A security source claimed that a personal disagreement with the owner of the exhibited car was behind the act.
The IED was intended to fully destroy the Mercedes, but a "lack of mastery" only caused limited damage, the source added.
Edited translation from Al-Masry Al-Youm.