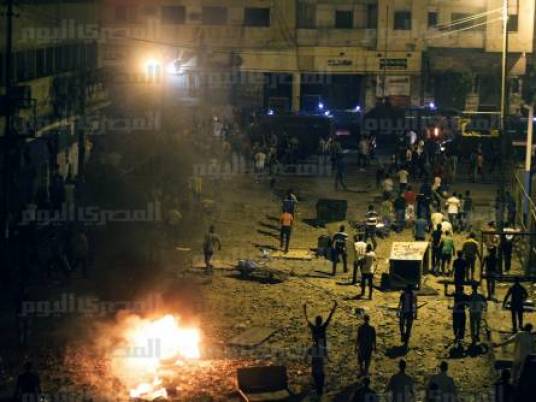 A Syrian man was ordered detained for another 15 days on Monday on charges of receiving money from the Muslim Brotherhood to stir up riots and kill protesters opposed to ousted President Mohamed Morsy in Tahrir Square, Abdel Moneim Riyad, and on the 6th October Bridge.
The clashes in which he is implicated led to the killing of eight people.
The Qasr al-Nil Prosecution charged him with murder, attempted murder, and possession of unlicensed arms and ammunition. He is also charged with assaulting peaceful protesters, undermining public security and stability, and joining an outlawed group.
An investigation has shown that Mohamed Mohie al-Darjouny, a Syrian, fired birdshot from a gun that was found in his possession during the clashes.
In the investigation, Darjouny said that he came to Cairo with his mother and that they rented an apartment in Shorouq. On 20 June, while he was on his way back home, he made the acquaintance of a man, Mohamed al-Soury, who recruits displaced Syrians living in Egypt to join pro-Morsy protests and incite the kiling ofl protesters opposed to Morsy.
Soury asked him to join and he agreed. The next day he received a phone call from Soury and they met and headed to an apartment in 6th October City.
When he entered the apartment he saw a large number of displaced Syrians and Palestinians, as well as members of the Muslim Brotherhood. There were also many firearms and ammunition.
He was given a shotgun and bullets to use to shoot protesters, he added.
The agreement was for him to receive LE500 for every protest he joined. He received LE2,000 from members of the Brotherhood after joining four protests and targeting protesters.
Edited translation from Al-Masry Al-Youm