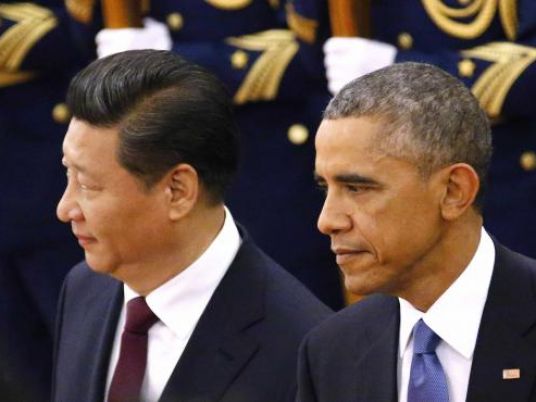 The United States and China announced an unprecedented joint plan on Wednesday to cut greenhouse gas emissions by 2030, one of several agreements reached by President Barack Obama and President Xi Jinping at intensive bilateral talks.
The United States and China have strong economic and commercial ties but have been at odds over everything from China's pursuit of territorial claims in East and Southeast Asia to cyberspying, trade and human rights.
Obama, meeting Xi in Beijing's Great Hall of the People for their first formal talks in more than a year after a dinner meeting the previous night, said he welcomes a China that is peaceful, prosperous and stable.
On Tuesday, the two leaders spoke for five hours during and after dinner, two hours longer than scheduled, officials said.
Obama added that China and the United States have important differences, but he was encouraged by Xi's willingness to engage constructively.
"There are important differences that we have both practically as well as our vision for our respective countries and our conduct in foreign policy," he said.
"But what I've been very encouraged by is your willingness, Mr. President, to engage in constructive dialogue," Obama added.
"Our two countries have enormous stakes in each other's success," Obama added. "The United States welcomes a China that is peaceful, prosperous and stable."
Xi told Obama that China and U.S. should expand the areas where they can and should cooperate.
Despite U.S. officials projecting low expectations for any major successes in the run-up to the trip, the two sides have managed to roll out a series of modest to fairly significant achievements over the course of the visit, on visas, trade, climate and military-to-military ties.
The agreement to cap greenhouse emissions throws the weight of the two countries behind a new global climate pact to be negotiated in Paris next year.
There were few tangibles agreed at last year's informal summit between the two countries in California, their last major bilateral talks, aside from agreeing to work together to try to resolve disputes over cyber security, and relations in that area subsequently worsened.
In May, the United States charged five Chinese military officers with hacking into American companies to steal trade secrets. China showed its anger over the allegations by shutting down a bilateral working group on cyber security.
Still, despite the bonhomie displayed by both leaders during their public interactions, especially at a summit of Asia Pacific leaders the two days before, there are still deep differences.
Obama told Xi that the United States would encourage elections in the Chinese territory of Hong Kong that are free and fair and reflect the will of people, drawing a riposte in front of reporters from Xi that what happens in Hong Kong is an internal matter for China.