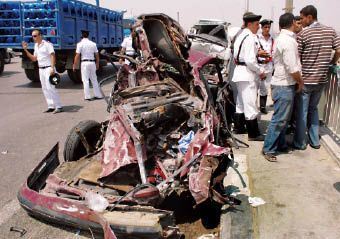 Deputy Director of Cairo Security Saad Sryia was injured in a car incident that took place on the Ring Road, near Cairo's district of Basatin. Syria was hit by a car on Friday, according to state-run newspaper Al-Ahram.
The accident occurred while Syria was checking the security services stationed on the Ring Road, when a female driver going at a high speed suddenly approached and hit him, Al-Ahram reported.
Security forces present at the scene hurriedly chased down the vehicle and arrested the female driver, while the injured deputy director of Cairo security was transferred to the nearest hospital.
According to Al-Ahram , preliminary investigations indicate that the incident was accidental.