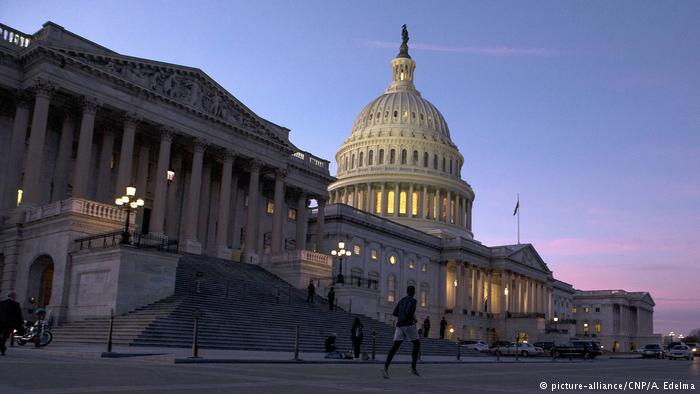 Both the US Senate and the House have voted to restore funding to government agencies — for now. Democrats are unhappy about Republican immigration reforms, but agreed to extend funding until early February.
The US Senate and the House of Representatives passed a spending bill on Monday to reopen US government agencies and extend funding until February 8 after receiving support from Democrats.
The bill passed in the Senate by an overwhelming majority of 81-18, with the House of Representatives approving it shortly afterwards with a 266-155 vote. US President Donald Trump signed the bill into law later on Monday.
"I am pleased Democrats in Congress have come to their senses," the president said in a statement.
Ahead of the vote, top Senate Democrat Chuck Schumer told the chamber the 69-hour shutdown could have been avoided if Trump had been prepared to compromise. However, Schumer said he and the Senate's leading Republican Mitch McConnell had "come to an arrangement" and there was now a "real pathway" to a vote on the immigration bill.
Republicans and Democrats spent the weekend trying to strike a deal, but avote at midnight leading into Monday was suspended for lack of an agreement.
Democrats had refused to support a temporary budget deal until their concerns about immigration reforms are addressed.
Democrats are unhappy about Trump's order last year ending the Deferred Action for Childhood Arrivals (DACA) program. The program protected "Dreamers" — young people who were brought to the United States illegally as children — from deportation.
While essential services — such as those involving national security — are not affected, government employees working for scores of agencies deemed non-essential were told to stay home on Monday.
Although Republicans have said they will take timely action to prevent deportations before March — when the DACA program expires — Democrats have so far been wary of trusting them.
In his statement, Trump said that a long-term immigration deal would be reached "if, and only if, it's good for our country."
The last US government shutdown was in 2013, when some 800,000 federal workers were put on furlough. The standoff stopped the passage of a funding bill centered on former Democratic President Barack Obama's health care law.