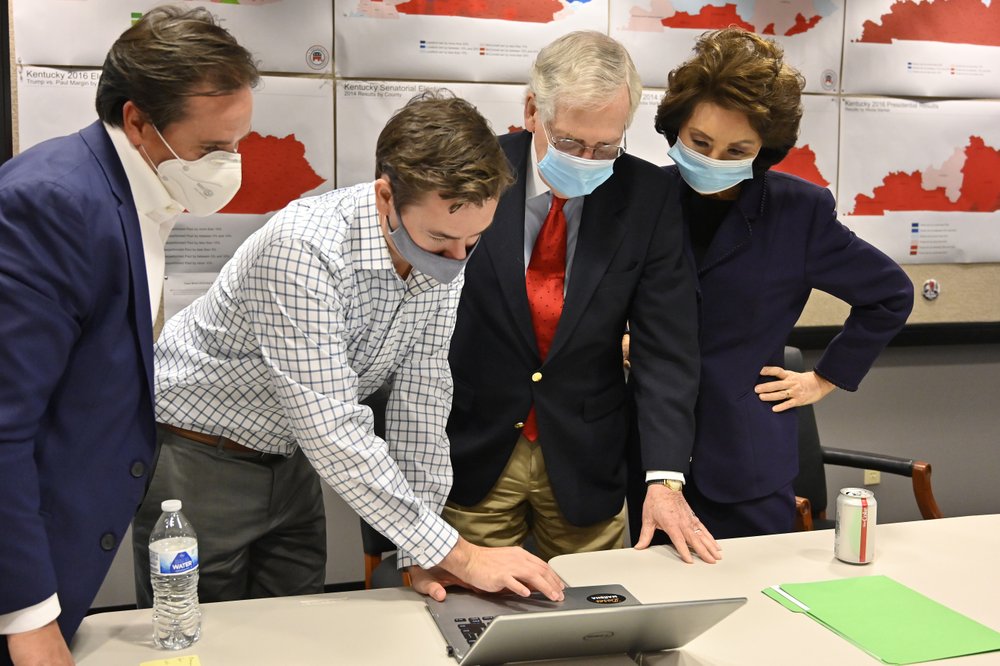 WASHINGTON (AP) — Hopes fading for Senate control, Democrats had a disappointing election night as Republicans swatted down an onslaught of challengers and fought to retain their fragile majority. Several races remained undecided into Wednesday and at least one is headed to a runoff in January.
It was a jarring outcome for Democrats who had devised an expanded political map, eager to provide a backstop against President Donald Trump and his party's grip on the Senate. The races attracted an unprecedented outpouring of small-dollar donations from Americans apparently voting with their pocketbooks to propel long-shot campaigns.
The voters' choices will force a rethinking of Democratic Party strategy, messaging and approach from the Trump era.
While Democrats picked up must-win seats in Colorado and Arizona, they suffered a setback in Alabama, and Republicans held their own in one race after another — in South Carolina, Iowa, Texas, Kansas and Montana, dramatically limiting the places where Democrats hoped to make inroads.
"You wasted a lot of money," said White House ally Sen. Lindsey Graham in Columbia, South Carolina, after defeating Jamie Harrison, despite the Democrat's stunning $100 million haul for his upstart campaign. "This is the worst return on investment in the history of American politics."
Trump loomed large over the Senate races as did Democratic rival Joe Biden. The Trump administration's handling of the COVID-19 crisis, its economic fallout and the nation's uneasy mood all seemed to be on the ballot.
Voters ranked the pandemic and the economy as top concerns, according to AP VoteCast, a national survey of the electorate.
"It's time for a different approach," said Democrat John Hickenlooper, a former governor who unseated Republican Sen. Cory Gardner in Colorado, during a live video message posted on Facebook.
Yet voters, for the most part, stuck with the status quo.
Securing the Senate majority will be vital for the winner of the presidency. Senators confirm administration nominees, including the Cabinet, and can propel or stall the White House agenda. With Republicans now controlling the chamber, 53-47, three or four seats will determine party control, depending on who wins the presidency because the vice president can break a tie in the Senate.
Democrats contested seats from New England to the Deep South and the Midwest to the Mountain West, reaching deep into GOP strongholds. But by early Wednesday, the tally was not too different from before Election Day.
By LISA MASCARO and MARY CLARE JALONICK