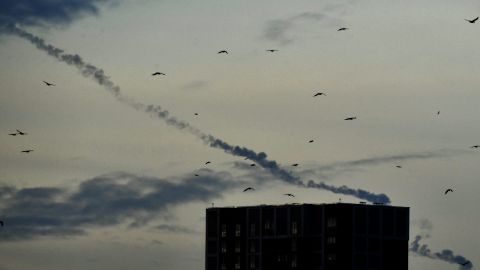 Ukraine's defense intelligence chief has predicted that there will be attacks "deeper and deeper" inside Russia, without acknowledging whether Kyiv has played a role in such attacks up to this point.
In an interview broadcast on ABC News on Wednesday, Major General Kyrylo Budanov, head of Ukraine's Defense Intelligence Agency, said that he was "very glad to see" attacks inside Russia, but that he was unable to "give you [an] answer" about whether Ukraine has played a role in such strikes until after the war.
The Russian Defense Ministry said that three Russian servicemen were killed last month when a Ukrainian drone crashed near Engels-2 military airfield, hundreds of miles from the Ukrainian border, according to Russian state news agency RIA Novosti.
"Do you think there will be more?" the reporter asked Budanov.
"I think so," he replied.
"Inside Russia? Deep inside Russia?" the reporter asked.
"Deeper and deeper," said Budanov.