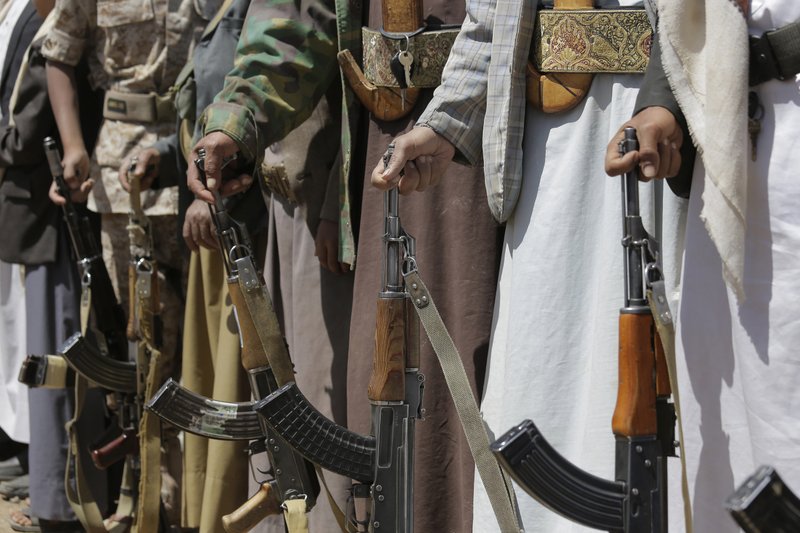 SANAA, Yemen (AP) — The death toll from a missile attack by Yemen's Huthi rebels on a military camp climbed to at least 111 troops, a Yemeni army spokesman said Monday, making it one of the deadliest rebel assaults since the beginning of the country's bloody civil war.
Ballistic missiles smashed into a mosque in the training camp in the central province of Marib over the weekend, wounding at least 68 other troops, said Abdu Abdullah Magli, spokesman for the Yemeni Armed Forces.
The oil-rich province of Marib is about 115 kilometers (70 miles) east of the Huthi-controlled capital, Sanaa. The attack came amid a barrage of assaults by Saudi-backed government forces on rebel targets east of the capital.
Saudi Arabia's foreign ministry on Monday condemned the attack, saying it would "deliberately undermine the path to a political solution" in the Yemeni conflict, according the kingdom's official news agency.
The U.S. ambassador to Yemen, Christopher Henzel, also condemned the attack. He urged in a tweet Monday all parties to "de-escalate military activities immediately" and "to work together on a political solution."
In recent months, Saudi Arabia started backchannel negotiations with the Huthis in the neighboring country of Oman, after the rebels claimed an attack on Saudi oil infrastructure that threatened global oil supplies. The United States blamed the attack on Iran, which denied involvement.
Also Monday, a top Yemeni military official survived an attempted assassination in the eastern Hadramawt province, according to a military statement.
The statement said armed men attacked the convoy of an infantry unit commander, Brig. Yahia Abu Ouja, in the Wadi Ser area. It said that the assault killed two troops including a colonel, and wounded five others.
In recent years, government forces have clashed with the Hadramawt Elite, a Yemeni security unit trained and equipped by the the United Arab Emirates. The force has attempted to wrest control of the area from the government side. The UAE has been a crucial partner in the Saudi-led coalition.
In the southern Dhale province, a separatist commander was also killed in an attack while he was heading the southern port city of Aden, security officials said.
Yemen's civil war erupted in 2014 when the Iran-backed Shia Huthi rebels seized Sanaa, and much of the country's north, ousting the internationally recognized government of President Abed Rabbo Mansour Hadi.
The Saudi-led coalition launched its campaign in 2015 to drive out the Huthis and restore the government of Hadi.
The grinding war in the Arab world's poorest country has killed more than 10,000 people, displaced over 3 million and pushed the country to the brink of famine.
Both sides in Yemen's war have been accused of war crimes and rampant human rights abuses. Saudi-led coalition air strikes and rebel shelling have drawn widespread international criticism for killing civilians and hitting non-military targets.
Reporting by
Image: In this file photo dated Saturday Sept. 21, 2019, Shia Huthi tribesmen hold their weapons during a tribal gathering showing support for the Huthi movement, in Sanaa, Yemen (AP Photo/Hani Mohammed, FILE)