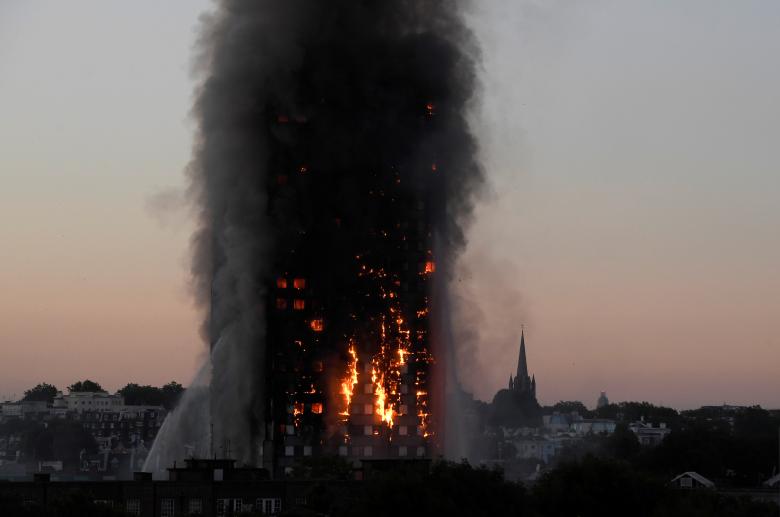 The death toll in a fire disaster that destroyed a 27-story block of flats in London is expected to rise on Thursday, with many people still missing and firefighters facing hazardous conditions as they searched the charred premises.
Smoke was still wafting out of the shell of the Grenfell Tower on Thursday morning, 30 hours after fire engulfed the building in the early hours of Wednesday and turned it into a huge flaming torch in a matter of minutes.
Authorities have confirmed 12 deaths, but have said that figure could rise. Firefighters rescued 65 people from the building.
Survivors who have lost everything spent the night at emergency shelters, as charities and local support groups were flooded with donations of clothes and bedding from shocked Londoners.
The fire brigade said the inferno was unprecedented in its scale and speed.
The tower, a social housing block built in 1974 in North Kensington, an area of west London, contained 130 flats and was thought to have been home to around 600 people.
Harrowing accounts emerged of people trapped inside, shouting for help and trying to escape through windows using makeshift ropes made from bed sheets.
By Thursday morning, there was no sign of life in or around the blackened building. Security cordons were in place around the base of the tower, where the ground was littered with charred debris.
Emergency services said it was too early to say what had caused the disaster. Some residents said no alarm had sounded. Others said they had warned repeatedly about fire safety in the block.
The building had recently undergone an 8.7 million pound exterior refurbishment, which included new external cladding and windows.