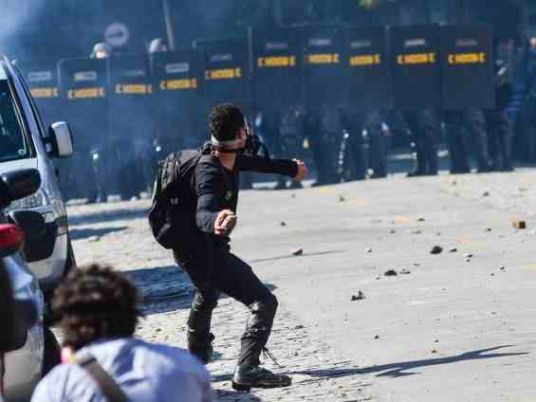 The death toll from a mass killing in Sao Paulo earlier this month has risen to 19, after a teenager girl died of her wounds Thursday, local media reported.
Leticia Hillebrand da Silva, 15, died of complications to a gunshot wound sustained to the abdomen, local news site G1 reported.
The teen was one of six people who were injured during the three-hour mass shooting in the Osasco and Barueri districts of Sao Paulo. Those killed in the attack were aged between 15 and 41 years.
Police initially reported 19 people had been killed on the night, but one of the victims, in the Itapevi neighborhood, was later dissociated from the massacre, which investigators believe to be a revenge attack by police officers.
At least three groups of hooded gunmen approached people in 10 locations across the two neighborhoods on the night of the mass killing; in at least one of the attacks victims were asked whether they had a criminal record, with a positive response leading to the person being shot.
However, subsequent investigations showed only a small number of the victims were known to police.
On Wednesday, Brazil's investigative civil police announced that 23 individuals were now suspected of involvement in the crime — 18 military police officers, four members of the civil guard and a private security guard, who may be married to a military police officer.
One military police soldier, Fabricio Emmanuel Eleuterio, was detained Saturday after being recognized by a witness, and has now been formally arrested in connection with the massacre.
Given the involvement of military police officers in the crime, the authorities put together a taskforce of civil police investigators to probe what the Sao Paulo Secretary for Public Security Alexandre Moraes described as the "deadliest massacre in the city this year".
However, military police have also begun investigating, including authorizing search warrants for the homes of the 18 military police suspects, which has reportedly caused friction between the forces.
"The civil police force is working with the Internal Affairs Division of the military police to guarantee maximum efficiency in terms of these investigations," Moraes said in a statement Thursday. "The Internal Affairs Division is going to aid the investigations if there is any indictment, [but] it is the civil police that investigates police legal issues," he added.
The military police investigations have centered on the theory the massacre was a revenge attack over the death of a police officer, killed by criminals at a gas station in Osasco earlier in August.
The Folha de S.Paulo newspaper this week reported that several of the suspects attended the slain officer's funeral and that investigations are probing whether plans for the attack were hatched at that time.