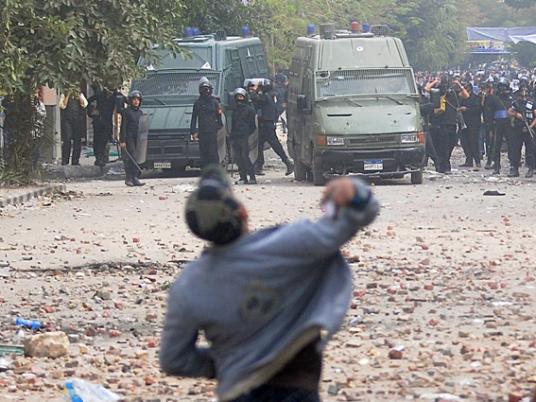 A protester died on Wednesday morning in clashes in Marsa Matruh in northwest Egypt and three more were killed in Cairo, bringing the total death toll from clashes that first broke out Saturday to 35.
Deputy Health Minister Hesham Sheeha said Wednesday that 28 people were killed in Cairo, two in Alexandria, one in Ismailia and one in Marsa Matruh. But the Health Ministry count was later increased to 31 casualties in Cairo.
Meanwhile, a group of protesters attempted to attack Health Minister Amr Helmy while he was touring Tahrir Square this afternoon. His bodyguards shielded him off from the attack and got him into his car, swiftly ending his visit to the square.
In statements to the press, Helmy denied allegations that a nerve agent is being used against the protesters.
Helmy added said he has ordered the formation of a three-member committee to test samples of the gas used on the protesters to verify that it does not contain any banned substances. The gas canisters used to disperse protesters are US-made, but not expired, he added.
"Even if they had expired, that would mean their effective substances have lost effect and are less harmful," he said.
A public prosecution delegation began visiting Tahrir Wednesday to investigate assaults on protesters and reporters by police forces.
The Journalists Syndicate had filed a report on Tuesday accusing Prime Minister Essam Sharaf and Interior Minister Mansour al-Essawy of targeting reporters and killing protesters.
The delegation met with field doctors and protesters to inquire about the nature of the injuries and when they took place.