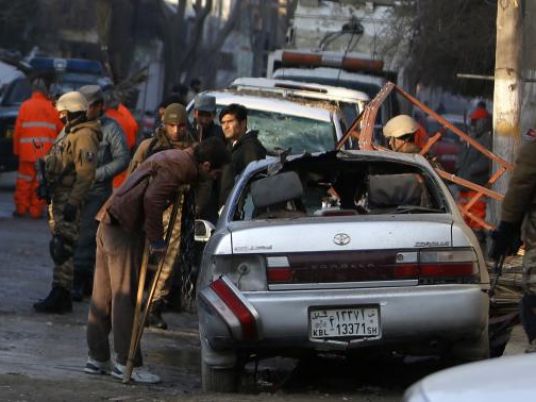 A suicide car bomber struck a foreign convoy near Kabul airport, killing at least two people and wounding 18 others during the peak morning rush hour Sunday, officials said.
The attack comes three days after 14 people – most of them foreigners – were killed in a Taliban attack on a Kabul guesthouse that trapped dozens attending a concert and triggered an hours-long standoff with Afghan forces.
"A suicide bomber detonated his Toyota sedan targeting a foreign forces convoy near Kabul airport today at 9:00 am," Kabul police spokesman Ebadullah Karimi told AFP.
"The target of the attacker was the foreign forces convoy. So far we have two women dead, 18 others wounded, all of them civilians," he said, adding that three children were among those wounded.
No group has so far claimed responsibility for the attack.
Deputy interior ministry spokesman Najib Danish said three civilian vehicles, one of them belonging to foreign troops were damaged at the site of the attack.
An AFP photographer at the scene saw troops hauling away the body of a soldier pulled out from the twisted carcass of a badly damaged sedan.
"All we can say at this moment that two of Eupol's vehicles were there at the time of the attack. We don't have any more details yet," Aziz Basam, senior press officer for the European Union Police Mission in Afghanistan, told AFP.
The attack comes as Afghan forces face their first fighting season against the Taliban without the full support of US-led foreign combat troops.
Taliban insurgents, who have waged a 13-year war to topple the US-backed government, launched their spring offensive across Afghanistan late last month.
Khalilullah Hodkhil, the deputy head of Wazir Akbar Khan hospital, said he had so far received dead bodies of two young girls and 19 other wounded people.
"All of them are civilians, including women and children," he told AFP.
"They are under treatment and their wounds are not life-threatening."
Gul Agha Rohani, the deputy police chief of Kabul, said a number of casualties were expected from the powerful blast.
The attack came as NATO on Wednesday formally announced plans to retain a small military presence in Afghanistan after 2016 to help strengthen local security forces.
NATO Secretary General Jens Stoltenberg said the future mission would be led by civilians and "will have a light footprint, but… (with) a military component".
Afghan forces are now solely responsible for security in the volatile country, after NATO's combat mission formally ended in December with a small follow-up force staying on to train and support local personnel.