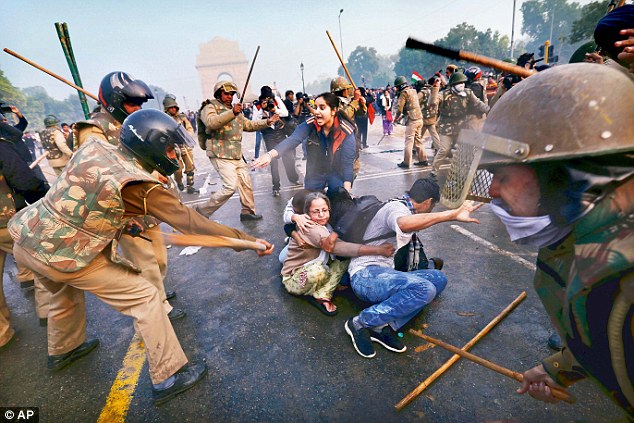 India is deploying thousands of riot police and shutting down internet services in two northern states, as it prepares for the sentencing on Monday of a self-styled 'godman' whose followers went on the rampage after he was convicted of rape on Friday.
Gurmeet Ram Rahim Singh's cult Dera Sacha Sauda has a vast rural following in Punjab and Haryana states, where frenzied mobs burned down gas stations and train stations and torched vehicles after a local court found him guilty of raping two women in a 2002 case.
At least 38 people were killed and more than 200 injured in the violence in Haryana, officials said, drawing sharp criticism for the state government run by Prime Minister Narendra Modi's Bharatiya Janata Party (BJP).
The case has also highlighted the Indian heartland's fascination with spiritual gurus, who enjoy immense political clout for their ability to mobilize millions of followers frustrated by the shortcomings of the state.
Security forces have cordoned off a jail in Rohtak city, 70 km (44 miles) from New Delhi, where Singh – also known as the guru of bling for the clothes he wears in the movies he has starred in – is being held.
The judge who convicted Singh will hold a special hearing inside the prison in Rohtak around 2.30 pm local time (0900 GMT) on Monday to decide the punishment, in a move that officials hope will prevent his followers from gathering in the streets like they did on Friday.
Singh faces a minimum of seven years in prison.
The town of Sirsa, home to Dera's headquarters, is already under lockdown, BS Sandhu, Haryana's police chief, told Reuters. School and colleges have been ordered shut, the government said.
"We're fully prepared, we have a contingency plan in place,"
Sandhu said, adding that more than 10,000 police would patrol the state as it awaits Singh's sentencing.
Neighboring Punjab, where violence was sporadic, has summoned more than 8,000 paramilitary and police, banned large gatherings and switched off mobile internet connections across the state until Tuesday, its top administrator said.
"Our intelligence reports caution that there could be arson and some other incidents," Karan Avtar Singh, the chief secretary to Punjab government, told Reuters.
In godman Singh's two films, "Messenger of God" and its sequel, there are sequences in which he fights off villains and tosses burning motorbikes into the air.
In his spiritual avatar, Singh dresses in plain white traditional clothes, giving sermons or planting trees. In the movies he dons bejeweled costumes, rides motorbikes and sends bad guys flying.
The Haryana government has faced severe criticism from opposition Congress and a state court for failing to stop the rioting and vandalism.
Singh, whose verified Twitter profile calls him a saint, philanthropist, sportsman, actor, singer, movie director, writer, lyricists, and autobiographer, has been photographed with senior BJP leaders including Haryana chief minister Manohar Lal Khattar.
Last year a Haryana minister announced the state would donate 5 million Indian rupees ($78,000) to Singh's Dera to promote sports.
Bir Kumar Yadav, BJP's Haryana spokesman, said the party had been associated with Singh only in his capacity as a social worker who had spread awareness about public sanitation and cleanliness.
Modi also weighed in on Sunday, vowing tough action against anyone trying to break the law.
"I want to assure my countrymen that people who take the law into their own hands and are on the path of violent suppression – whether it is a person or a group – neither this country nor any government will tolerate it," he said in his monthly radio address, without directly mentioning the recent violence.
Singh's conviction in a rape case is the latest in a series of cases involving spiritual leaders who have been accused of sexually abusing followers, amassing untaxed money and finding favor with politicians.
Besides the rape charges, he is also under investigation over allegations that he convinced 400 of his male followers to undergo castration, allegations he denies.
($1 = 64.0000 Indian rupees)