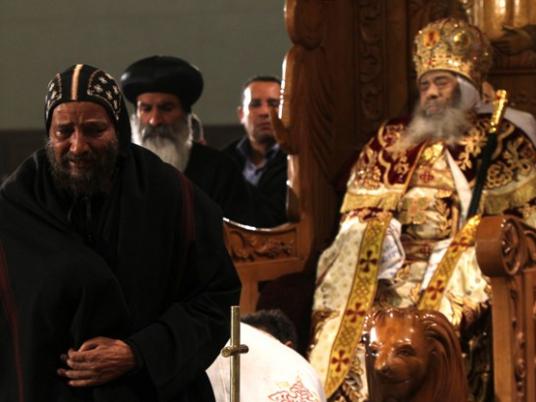 The word 'Baba' (Pope) is derived from the Coptic word "Abba", which means father.
Pope Anianus, the 2nd Pope of Alexandria and Patriarch of St. Mark, was reportedly the first to be called 'Baba,' a title given to heads of the Coptic Orthodox Church since then.
The headquarters of the Pope was originally located in Alexandria and were moved to Cairo during the Umayyad era in Egypt.
The Pope of Alexandria is elected from monks and could be of the bishops. According to the church's current internal elections regulations, the Pope should be a virgin and no less than 40 years old.
An altar lot is conducted between the top three candidates in the order of votes.
Pope Shenouda III, Pope of Alexandria and Patriarch of the See of Saint Mark, in Egypt and diaspora, was born on Friday 3 August 1923 in Salam village in Assiut Governorate. His name was Nazeer Hayed Rofaeel before monasticism.
He had joined the Department of History, Fouad I University (now Cairo University) and studied the Pharaonic, Islamic and Modern history. He earned a bachelor's degree in 1947. One year earlier, he joined the clerical faculty and after graduating, he worked as a teacher of Arabic and English for three years. He also attended classes at the Faculty of Coptic Theology.
He loved writing, especially writing poetry. He has been for many years an editor and then editor-in-chief of the Sunday School magazine. At the same time, he was pursuing graduate studies in archeology. He was tonsured monk on Saturday 18 July, 1954 and named Antonios al-Soriany.
From 1956 to 1962, he lived a solitary life in a remote cave devoting his time to reflection and prayer. A year later, he was ordinated as priest. He then spent 10 years at the monastery before working as secretary to Pope Kyrillos VI in 1959. He was then ordained a bishop of the Church and religious education institutes.
After the death of Pope Kyrillos in the March 9, 1971, a papal election was held on Wednesday, 13 October and then came the crowning where Shenouda was elected the 117th Pope of Alexandria.
He was the first patriarch to establish many Coptic monasteries outside Egypt. He also reconstructed a large number of monasteries.
A large number of churches and dioceses inside and outside Egypt were built as well under Shenouda.
He faced many conflicts with late President Anwar al-Sadat upon which he was put under house arrest at Wadi al-Natroun. Shenouda rejected the peace treaty with Israel and refused to accompany Sadat to Israel in 1977. Former President Hosni Mubarak released the Pope and other detainees in 1985.
Shenouda died on 17 March 2012. On 18 March, the Pope's body was placed on St. Mark chair for public viewing at the cathedral of St. Mark in Abbasia for a farewell look.
The first Mass was held on Sunday morning in the presence of Shenouda's body. Acting Pope St Pachomius headed the prayer amid the presence of most of the Holy Synod of the Coptic Orthodox Church bishops.
The body remained on the papacy chair until March 20, 2012, to allow the largest number of visitors to take a final peak.
His body was transferred, on Tuesday, with a military aircraft upon a decision by Field Marshal Hussein Tantawy, to the Monastery of St Pishoy in Wadi al-Natroun, where he had requested to be buried.
Edited translation from Al-Masry Al-Youm