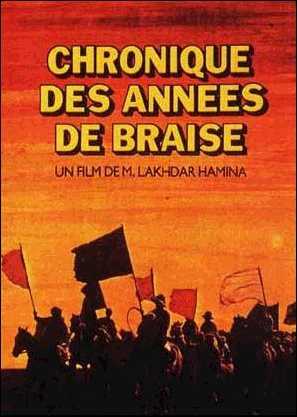 In 1975, Algerian director Mohamed Lakhdar-Hamina became the first Arab to win an award at the Cannes International Film Festival.
Lahkdar-Hamina was awarded the Palme d'Or for his movie "Sanawat al-Jamr" (Chronicle of the Years of Ember), crowning a long career in movie-making.
Lakhdar-Hamina was born in Algeria in 1934. He immigrated to France and then Tunisia, where his cinematic inclinations started to emerge. At the beginning of his career, he directed several documentaries about the Algerian War, including "Yasmina," "The People's Voice," and "The Guns of Freedom."
In 1966, Lakhdar-Hamina continued his ascent in the cinema world with his movie "Riyah Aures" (The Winds of Aures), and his play, "Hassan Terro," which was made into a movie in 1967. Both works also portray the Algerian revolution and the liberation struggle. He adopted the same theme in "December" (1972) and in "Chronicle of the Years of Ember" (1975). The latter, his award-winning film that was nominated for an Oscar in 1976, told of the Algerian struggle against the colonial establishment. In its portrayal, 11 November 1954 is depicted as the end date of Algerians' long stuggle against French colonialism, which had begun in 1830.