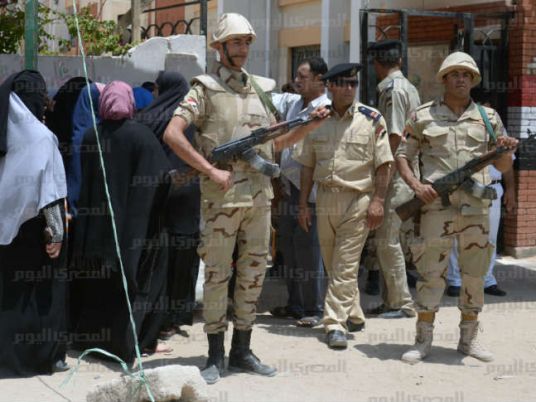 Polling stations are receiving voters for a third day of presidential elections after the Presidential Elections Commission decided to extend polls amid a low turnout.
Following are live updates from polling ounits across the country.
4:30pm
Civil protection forces and explosives expert in Fayoum defused on Wednesday three bombs planted next to some polling stations in city of Abshway.
Two of them were in form of bottles containing explosive materials, while the third was a small butane gas cylinder linked to a circuit and mobile phone.
4:00pm
Gamal Abdel Rahman, head of the judicial committee supervising elections in Assiut and New Valley governorates, said the rate of voting in Assiut reached 50 percent.
In remarks on Wednesday, Abdel Rahman said the rate is approximate and that results will announced in time, after end of voting and ballot count.
Number of eligible voters registered in Assiut reaches 2,268,855 voters. Number of voters in New Valley reaches 150,000.
3:30pm
Sources at the North Sinai operations room said on Wednesday that the percentage of voting in the presidential elections reached 30.64 percent so far, with 69,464 votes.
3:00pm
Turnout picked up in Ismailia on the third and last day of voting in the presidential elections, especially in the afternoon after working hours, to reach 66 percent, according to judicial sources.
Family and tribal elders in the rural parts took voters in their cars to the polling stations to cast their votes, and the operations room of the city headquarters did not detect any problems.
Representatives of presidential candidate Hamdeen Sabbahi withdrew from the polling stations though authorities were not aware of the reasons behind the move. Marwa Ahmed of his campaign said on Facebook that they withdrew due to the large amount of Sisi campaign material inside the polling stations, which constitutes a violation.
2:00pm
Turnout in Aswan was weak on the third day of the presidential elections and queues could no longer be seen, especially in the Al-Seil Al-Rifi district that saw clashes between the Al-Daboudiya and Bani Hilal families.
Police in Aswan arrested an alleged Brotherhood supporter who was seen lingering outside the Abdel Meguid Hussein School polling station, but Al-Masry Al-Youm could not find the charges levelled against him.
Sohag also had a weak turnout on Wednesday, although the Nour Party organized marches to encourage people to cast their votes.
Alaa Abdel Samie, secretary of the Constitution Party that supports Hamdeen Sabbahi, said the party pulled out its representatives from the polling stations to protest extending the voting for a third day.
Turnout was also weak in the al-Nahda and al-Salam districts and the few voters that showed up said they came for Egypt's sake and not because of the LE500 fine.
"The government should not have said that he who will not vote is a traitor," said Hassan Saeed, a resident.
1:30pm
Minya security services have arrested three alleged Muslim Brotherhood members while filming empty polling stations. Authorities say they were seeking to post the photos on social media platforms and submit them to satellite TV channels.
1:00pm
Residents in Beni Suef governorate, especially in the cities of Beni Suef and Fashn, used tuk-tuks, a small three-wheeled motor vehicle with easy access to narrow streets, to transfer to and from polling stations.
Many campaigners adopted the idea of using tuk-tuks and microbuses. The Salafi-led Nour Party used vehicles with banners reading 'Vote for Field Marshal Sisi' to transfer voters to and from polling stations as well.
12:00pm
Some polling stations were opened late in Sheikh Zayed and 6 October cities, due to judges' late arrival. Security cordon was imposed by military and police.
A polling station in the sixth district of 6 October City was late for half an hour.
Explosives experts combed the polling station. Several military police personnel were seen around some polling stations fearing violence.
In Sayyeda Zeinab, al-Gammaliya and Masr al-Qadeema districts, calm prevailed after more than hour and half had passed since start of the voting process.
Dozens flocked over the polling stations, amid high security by police and military. Representatives of the presidential hopeful Hamdeen Sabbahi withdrew from the polling stations according to a decision by the candidate's electoral campaign in protest against decision by the Presidential Elections Commission (PEC) to extend voting process for a third day.
Officials at polling stations expected higher turnout in the afternoon until the temperature decreased.
11:30am
Thirteen polling stations in Qena were opened late on Wednesday as judges arrived in cities of Nagaa Hammadi, Naqada, Qaft, Abu Tesht and Qena. They were opened by 10am.
Limited attendance of voters was noticed in some polling stations in the morning.
11:00am
Observers and representatives from Hamdeen Sabbahi's campaign have declared withdrawing from polling stations in the Beheira, Red Sea and Kafr al-Sheikh's Borg al-Borollos to protest the extension of voting days.
10:30am
In Cairo's Matariya and Amiriya, polling stations seemed almost vacant, with only judges and security agents present
Turnout in Suez was also limited Wednesday morning. Al-Hayat satellite channel said more than 39 percent of voters took part over the past two days.
Abdel Fattah al-Sisi's campaign reported a delay in opening all of the polling stations in Marsa Alam, the Red Sea, due to the late arrival of judges. Polls in Hurghada proceeded normally.