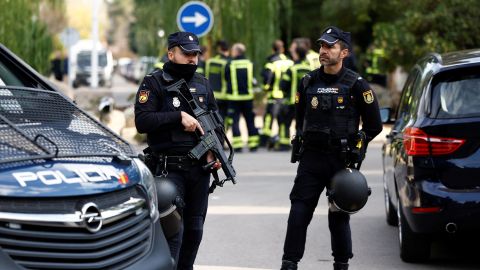 More "dangerous packages" have been sent to Ukrainian embassies in Romania and Denmark, Ukrainian Foreign Minister Dmytro Kuleba said in a video press briefing on Tuesday.
Kuleba discussed the "campaign of terror and intimidation" that began last Wednesday against Ukrainian embassies and consulates with "a package with explosives in Madrid," followed by "bloody letters with animal eyes in other capitals."
"I can only reiterate this for all enemies of Ukrainian diplomacy and Ukraine: You will not succeed at intimidating or stopping us," Kuleba said in the briefing, which was released on Facebook. 
"We have had new instances of dangerous packages sent to our embassies. Today, this was done to our embassy in Romania and the embassy of Ukraine in Denmark," Kuleba said.
He did not specify whether these packages contained animal eyes like those that have been sent to Ukrainian diplomatic missions in other countries across Europe within the past week.
"To all those who continue to send these packages and terrorize our embassies, I say please relax, don't waste your time and money for postage. You'll achieve nothing," he added.
This brings the total number of cases of threats to Ukrainian embassies and consulates abroad to 23 across 14 countries.
On Monday, Ukrainian foreign ministry spokesperson Oleg Nikolenko said on Facebook that the total number of cases of threats to Ukrainian embassies and consulates was at 21 across 12 countries. This followed Spanish police seizing packages addressed to the Ukrainian embassies in Madrid, Barcelona and Malaga — all of which contained animal eyes — at a post office in Spain on Monday.