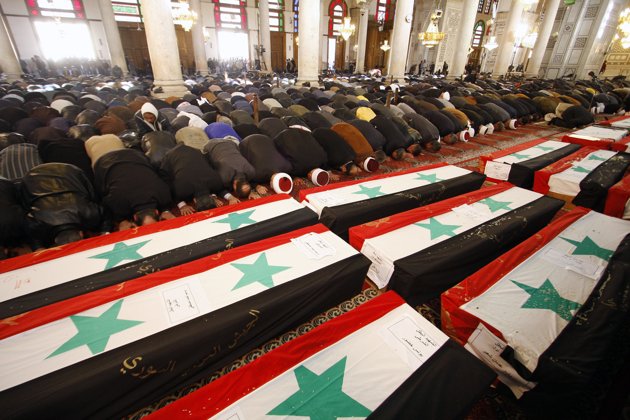 Syria's chief government negotiator sought on Friday to steer a new round of peace talks away from the political transition that UN mediators hope to promote, as increased fighting near Aleppo threatened to undermine a shaky truce.
Bashar Ja'afari said his focus was to submit amendments to a framework document for the talks, prompting accusations from the head of the opposition negotiating team that Damascus was "not serious" about seeking a political solution to the five-year conflict.
The Syrian government, buoyed by Russian and Iranian military support, arrived in Geneva six days after UN mediator Staffan de Mistura had hoped to begin negotiations.
The previous round of indirect talks ended on March 24, with de Mistura issuing a document on 12 guiding principles and vowing to shift the focus to a political transition, which the camp of President Bashar al-Assad has refused to discuss.
After almost two hours with de Mistura, Ja'afari told reporters that he had given the UN envoy amendments to his document and would wait for him and his team to "study in-depth" the paper over the weekend and submit it to other groups.
"We will once again discuss our proposal the next time we will meet on Monday," he said. Ja'afari declined to answer questions, and de Mistura canceled a planned news briefing.
'Divorced from reality'
The main opposition delegation, the High Negotiations Committee, has been in Geneva for two days.
After meeting de Mistura on Friday it said the push on Aleppo by forces loyal to Assad showed the government did not want to negotiate a peace deal.
"Today, as usual, the regime … is sending a strong message that it doesn't want a political solution, but a military solution that will bring destruction to the whole country," said team head Asaad al-Zoubi, referring to intensified fighting in the northern city.
He said the government amendments made to de Mistura earlier in the day highlighted Damascus was "not serious about the political solution" and "divorced from reality."
The opposition told Reuters on Thursday that it was willing to share seats on a transitional governing body with members of Syria's government, but Assad must leave power and it was now time to discuss a transition.
Assad has rejected the idea of a transitional governing body, saying instead he could broaden the government to include what he described as opposition and independent figures.
Syrian Information Minister Omran al-Zoubi said Assad's future was not up for negotiation in Geneva or elsewhere, Russia's TASS news agency quoted him as saying in Damascus.
A senior Western diplomat close to the talks said it was clear that Syria's government had no intention of negotiating in good faith. "The regime is doing everything it can to kill the negotiations," the diplomat said.
"If there was one moment when it shouldn't launch an offensive [in the Aleppo region] then it really shouldn't be the day before the government delegation arrives in Geneva."