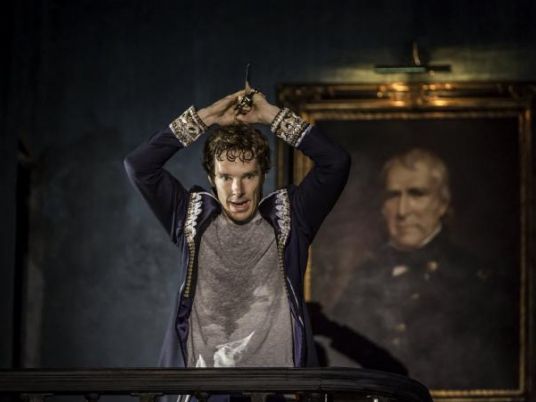 Benedict Cumberbatch delivered a "Hamlet" for our time in London in a production that played to his strengths, dresses up Shakespeare for a younger crowd and had the British actor's fans roaring in approval at the end.
Ever since the 12-week run was announced a year ago and sold out in record time for a London stage show, people have been wondering if the production, which began previews on August 5 and officially opened on Tuesday, was going to be a Cumberbatch fest or a serious "Hamlet".
The fears can be laid to rest. It is "Hamlet," but not in the brooding Laurence Olivier or Richard Burton tradition.
The three-hour-long production directed by Lyndsey Turner at the Barbican Theatre is set for the first half in a palace that looks more like Downton Abbey than Elsinore, while in the second half the same set has been ravaged by war.
In this environment, the 39-year-old British film and television star works some of his most famous roles into the DNA of a very modern prince. He at one point wears a hoodie and for most of the play is dressed like a guy from the 'hood – as are his mates.
Displaying the quick wit and mental acuity of his television detective "Sherlock," Hamlet figures out that his uncle Claudius, portrayed by a wonderfully two-faced Ciaran Hinds of "Game of Thrones" fame, killed his father, usurped the crown and married his mother (Anastasia Hille).
The prince then does his best to alienate everyone around him, especially the young Ophelia (Sian Brooke), whom he deeply loves, a bit like Cumberbatch's sociopath mathematician Alan Turing does to his colleagues in "The Imitation Game".
One thing Cumberbatch's Dane is not is melancholy. There's a hilarious scene in the first part where he enters dressed as a drum major and proceeds to dance and drum on a banquet table, before eventually retreating inside a toy fort guarded by four giant-sized toy soldiers.
The production tinkers with the text, but "To Be or Not to Be," which in early previews opened the play, sensibly has been restored to its normal spot.
Other revisions are more subtle, including having Ophelia use some of the dialogue from earlier in the play for the wistful songs she sings just before she drowns herself.
It may not be a "Hamlet" for the ages, but it is one for now, and for Cumberbatch's legions of predominantly female fans.
Some of those attending Tuesday's performance said while queuing for day tickets that they were seeing it for the fourth or fifth time. At least one or two were planning to jump back in the queue when the show ended, to see it again.
The production will be broadcast to cinemas on October 15.
(Michael Roddy is the Entertainment Editor for Reuters in Europe. The opinions expressed are his own)