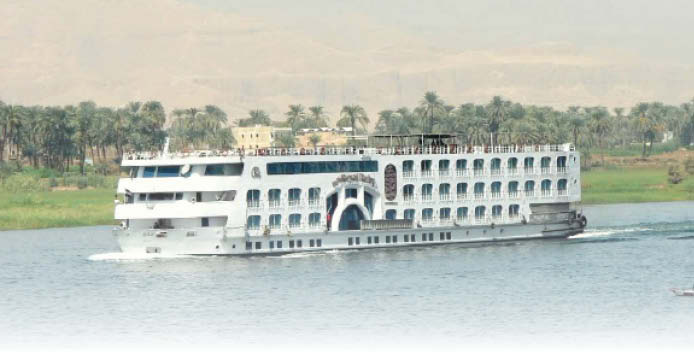 Brought up on a holiday diet of camping, caravanning and self-catering countryside cottages, my preferred mode of travel is usually the independent kind. But as a solo tourist in Egypt, I have come across a frustrating number of difficulties that often result in the trip being more of an 'experience' than a relaxing holiday.
When I saw an ad for Nile Cruises at Cairo's premier budget lodge, Dina's Hostel, I asked if they could fit me in for the Abu Simbel Sun Festival, which only takes place twice a year, in February and October. They could, and so I booked a three-night four-day cruise from Aswan to Luxor.
Dina arranged airport transfers and a one-night hotel stay a few days before departure and I was all set to go.
On arrival at the boat, Ahmed, my tour guide, gave me my itinerary for the week. Trips to Abu Simbel, Philae Island, the High Dam, Kom Ombu and Edfu Temples, and Luxor's East and West Banks were slotted into the four days. A visit to a Nubian village was optional, as was a hot-air balloon ride on the last morning. Dinner was at 8 pm every evening, breakfast at 8 am. It looked exciting, with plenty of scheduled free time to relax as the boat traveled upriver.
I decided to take Ahmed up on his offer of a trip to the Nubian village, and it was lovely. Half an hour upriver, taking in the sunset on the way, we were greeted by traffic-free sandy paths and colorful stalls lit by bare bulbs. There was the usual Egyptian tourist merchandise, but also locally made products, spice stalls, traditional Nubian musical instruments, Sudanese decorations and recycled art-ware. Salesmen and women were friendly and pleasant, and, of course, keen to sell. We visited the Nubian cooperative, which houses community meetings, workshops and training for the villagers. We sat on the roof of a traditional Nubian house for tea and bread with runny black honey, sugary tahina and salty cheese that made your mouth water. Despite being an organized tourist excursion into people's daily lives, the atmosphere of the village didn't feel artificial.
The cruise was carefully timed so that every excursion felt like a special treat. Abu Simbel was no exception. Built by Ramses II so that the sun shines on the statues inside the temple only twice each year, the size of the temple is astounding — even more so considering that it was moved, stone by stone, to a position which would allow the dawn rays to light the interior on Ramses' birthday and coronation. If you're determined to witness the engineered illumination from inside, be sure to get there very early, as a large queue forms at the entrance. Although television screens are provided, the quality of transmission can't possibly compete with the real thing. Just before dawn, dancing troupes in traditional Egyptian and Nubian costumes welcomed daybreak and invited spectators to join in. The atmosphere was jubilantly peaceful, friendly and welcoming and well worth the four-hour overnight bus ride from Aswan.
Back on the Sunrise Nile Cruise boat, the bedroom felt luxurious — decorated in plush velvet with a flat-screen TV, fridge and an en-suite double shower. Two comfortable armchairs made a miniature lounge area for gazing out to the river through the large windows.
There was only one full day of being left to our own devices, but not before an early morning trip to Edfu Temple. Getting up at 6 am, we arrived at the site even before it was open. On any other holiday I might have begrudged the early start, but the temperature at this time of day is perfect for sight-seeing. Being free for the rest of the day left us with nothing to do but lounge around on the top deck in the sun, the shade or in the small pool. I took the opportunity to chat with other passengers and had a lovely day getting to know the diverse cross section of travelers. A honeymooning couple from the UK said they were a little nervous about coming to Egypt because of the media, but avoiding Cairo meant they felt sure they were avoiding any trouble. A Japanese man was on a three-year motorbike journey and was inspired by the Egypt revolution to visit the country. A Canadian couple was halfway through their two-month trip around Europe and the Middle East, and a young Austrian man was at the beginning of a year-long trip around the world.
River vendors provided us with at least a couple of hours of their unique sales technique by successfully hawking galabeyas and tablecloths from their rowing boats, attached by rope to the side of the ship.
Never having experienced an organized tour before, I was a little put off at being told I had to sit in the same place every night for dinner. But by the end of the week I was firm friends with my co-diners, having spent every mealtime sharing travel stories and relishing the food — easily the best I've had in Egypt. Every night, there was a healthy selection of tasty salads, six different breads and rolls, two soups, and six main meals to choose from. The best came at the end of the week, with Egyptian-style eggplant, lentil and chili salads, and main courses of koshary, baked vegetables, kofta, chicken and fragrant rice. The chefs came into their own that night and all courses were the tastiest yet. Desserts included Om Ali, melon, sharon fruit, grapes, oranges and a number of different pastries.
There were only minor disappointments — the hotel booked for me prior to departure was poor. The room had no window and the bathroom looked half finished. My guide, for no apparent reason, wasn't allowed inside the airport building, so on my arrival I was worried there was nobody there to meet me. Our tour bus burst a tire on the way to Abu Simbel, but the driver carried on regardless instead of changing it. Presumably he continued due to our proximity to the site and the need to arrive before dawn, rather than out of carelessness. Although the food on the boat was absolutely fantastic, we felt a little rushed and might have preferred to stay longer in the restaurant each evening. Dinner might have felt painful with a small group you had nothing in common with, but luckily my co-diners were more than fun. We were sold a deal of three nights and four days, but had to pay for lunch on the fourth day.
Only two aspects of the trip made it feel like a package' holiday. First, there was the rushed half-hour of entertainment by a young Sufi dancer and a much older belly dancer on the last night. And, we were taken to shops disguised as museums on two occasions, despite deliberately stating that we were not looking to buy anything.
But, the cruise overall was well balanced between relaxation, information and fun. The sights were truly awe-inspiring and being guided for only some of them meant that we weren't overloaded with information and could spend time just soaking up the history. All in all, it was an excellent holiday, and one I'd love to repeat — but the next time, for longer.
This piece was originally published in Egypt Independent's weekly print edition.