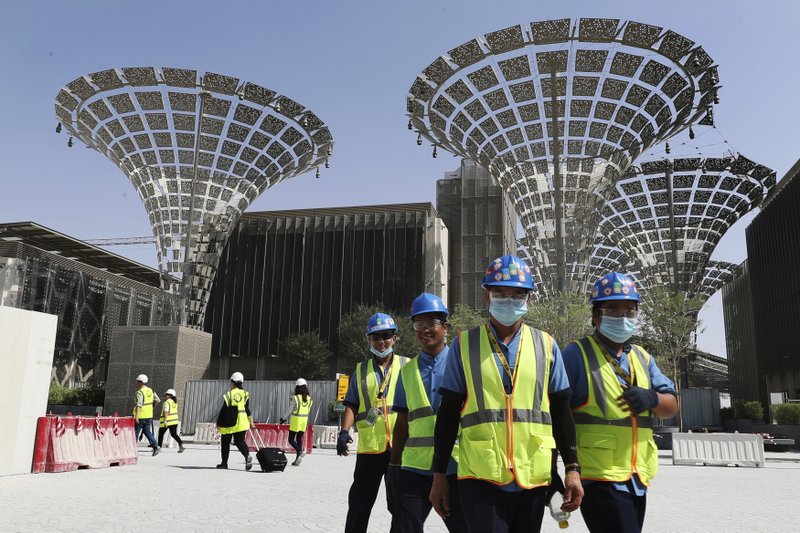 The Crown Prince of Abu Dhabi Sheikh Mohamed bin Zayed bin Sultan al-Nahyan toured Egypt's pavilion at the Expo Dubai 2020 on Saturday, where he remarked on the nation's remarkable display of content combining ancient history and its vision for the future.
The prince viewed artifacts at display such as the sarcophagus of Priest Psamtik, King Tuthankhamun's golden mask and replicas of his treasures, and displays of new modern Egyptian projects.
He was greeted by the Consul General of Egypt in Dubai Ashraf al-Deep and the head of the Egyptian Commercial Office in Dubai and Egypt's deputy Commissioner-General to the Expo Ashraf Hamdi.
This important visit follows many other visits by high-level UAE officials to Egypt pavilion, a display of the strong ties between Egypt and the UAE.
The expo was originally scheduled for October 2020, but was postponed due to the coronavirus pandemic.
The exhibition is divided into three areas: Opportunities, which aims to unleash the potential of individuals and societies to shape the future; Mobility, which aims to create more efficient and effective means for the movement of people, goods, and ideas; and finally Sustainability, which means respecting the world to ensure a cleaner, safer and healthier future for all.
Egypt is participating in the six-month-long expo, where it has presented itself as an investment destination. It will include its digital display artifacts from Ancient Egypt.
The Egyptian pavilion participating in the exhibition is located in the Opportunities Area, which is considered the most important area of the Expo Dubai, next to the UAE pavilion.
Egypt's goal in participating in this event is to integrate with the world towards a better future, through developing initiatives that serve all aspects of life.