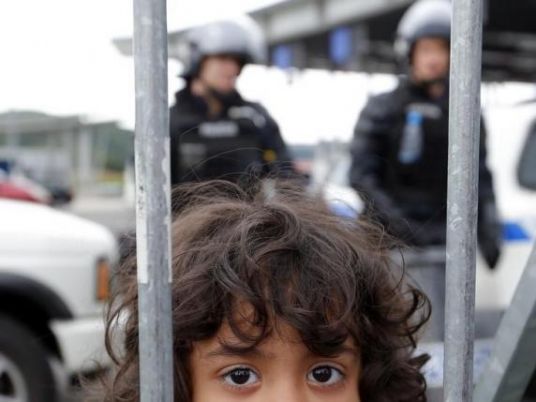 Croatia said on Saturday it had "forced" Hungary to take in thousands of migrants and would continue sending them to its northern neighbor, amid deepening discord and disarray in Europe over the biggest westwards migration in decades.
More than 20,000 migrants, many of them Syrian refugees, have streamed into Croatia since Hungary on Tuesday barred their route to the European Union through its southern border with Serbia with a metal fence, tear gas and water cannon.
Warning it was losing control, Croatian Prime Minister Zoran Milanovic said his country would give them food, water and medical attention, and send them on their way.
There were increasingly ugly exchanges between the two countries, reflecting the anger and ill-feeling between the EU's 28 member states over what to do with the hundreds of thousands of migrants reaching its shores, fleeing war and poverty in the Middle East, Africa and Asia.
EU leaders are to hold a summit on Wednesday, trying again to reach agreement on how to share out about 120,000 people. Even then, more are on their way, flowing by the several thousand every day over Balkans borders having reached Greece from Turkey by boat and dinghy.
Hungary said more than 5,000 had crossed from Croatia by bus and train on Friday. More were expected on Saturday and at least 20 buses on the Hungarian side of the border lined up in the village of Beremend waiting to pick them up.
"There was no agreement (with Hungary). We forced them, by sending people up there. And we'll keep doing it," Milanovic told reporters in the northeastern town of Beli Manastir, from where many of the buses and trains have been leaving for the short trip to Hungary.
Hungarian soldiers are racing to build a fence like the one on the border with Serbia along a stretch of the Croatian frontier too, and have rolled out coils of razor wire. Milanovic was dismissive of the move. "Borders can only be closed by brute force," he said, "and that means killing."
On Croatia's western flank, 1,200 migrants have crossed into Slovenia, like Hungary a member of Europe's Schengen zone of border-free travel. Crowds were building on Saturday at border crossings, kept back by riot police who briefly fired pepper spray late on Friday. Police began letting through small groups.
Slovenian corridor?
"I feel frustrated, we're so tired," said Siha, 35, from the Syrian city of Aleppo, the country's commercial hub reduced in many parts to rubble since the Syrian war began in 2011. With two small children, she was waiting on a bridge in no-man's land at the Harmica border crossing into Slovenia.
"We left Turkey 10 days ago. The trip was very dangerous for the kids. I decided to leave Syria because I want my kids to have a comfortable life, to study," Siha said.
Slovenian Prime Minister Miro Cerar said he would discuss with neighboring countries the possibility of creating a "corridor" through the country if the influx became too much.
Hungary said it would send a diplomatic protest note to Croatia.
In a telephone call with his Croatian counterpart, Hungarian Foreign Minister Peter Szijjarto asked why Croatia was sending "thousands of unregistered immigrants" to their border "in complete violation of European law", the Foreign Ministry said.
The migrants entering Hungary from Croatia were being registered and sent to reception centers near the Austrian border, from where they would likely cross to Austria and on to Germany, the favored destination for the vast majority.
An aide to right-wing Hungarian Prime Minister Viktor Orban suggested Budapest may block Croatia's accession to Europe's Schengen zone "if Croatia puts up its hands and says, 'No', I don't want to defend the borders."
Late on Friday, with tempers fraying, Hungary said it had "seized" a Croatian train carrying migrants to the Hungarian town of Magyarboly, disarmed the police escorting it and arrested the driver.
A Hungarian government spokesman said the incident "raised the suspicion of a border violation". But a statement by the Hungarian police on Saturday said the Croatian officers were unarmed and escorted back to the border.
Milanovic said the Hungarians were "just showing off."