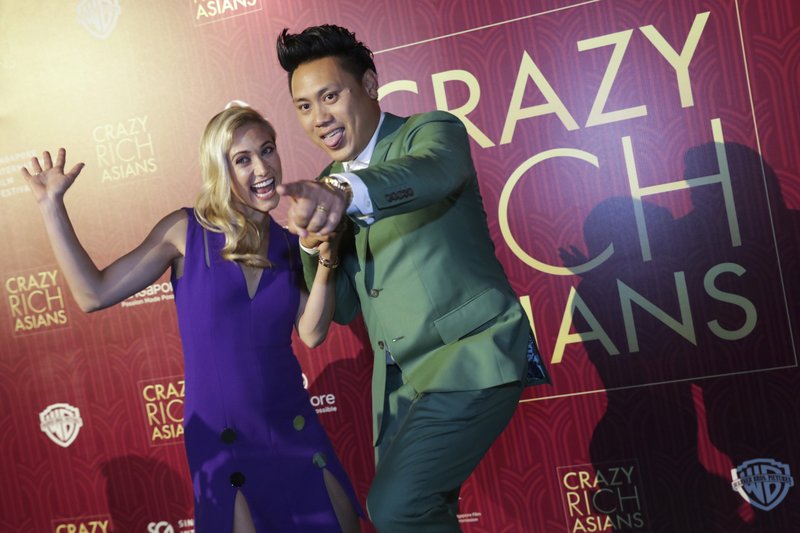 SINGAPORE (AP) — The craze for "Crazy Rich Asians" is hitting Asia, with a premiere in Singapore followed by openings in several neighboring countries later this week.
Much of the over-the-top romantic comedy was set in this wealthy city-state. As the stars streamed past flashing lights down the red carpet Tuesday evening, fans and tourists swarmed around them taking photos and asking for selfies.
The movie is expected to draw enthusiastic crowds across Asia after its box-office bonanza in the US.
Directed by John M. Chu, the film was adapted from Singaporean author Kevin Kwan's best-selling novel of the same name. It follows Chinese-American Rachel Chu as she travels with her boyfriend Nick Young to Singapore to meet his family and discovers they are ultra-wealthy.
The movie is drawing a mixed reaction. Admirers of the film say that as the first majority Asian-cast film in over two decades to be released by a major Hollywood studio it upends Hollywood's usual stereotypes of Asian characters. Critics say it misses a chance to showcase Singapore's ethnic diversity.
The $30 million Warner Bros. film has grossed more than $35 million since its Aug. 15 world debut in Los Angeles and came out tops with its release in US theaters over the weekend.
"This (movie) is something very personal to people, and it feels like a bigger movement than just the movie itself," Chu, the director, told The Associated Press.
The film has drawn criticism for its inaccurate portrayal of Singapore's ethnic diversity, with some calling it a misrepresentation of the country's minority races. Even though a majority of its residents are Chinese, a quarter of its population are Malay, Indian, or Eurasians, with many migrant workers from other Asian countries like Bangladesh or the Philippines.
"There's this whole notion of the movie being a triumph for representation, which is very problematic. The only Indians and Malays you see are servants," said Nicholas Yong, a Singaporean journalist and author who saw the movie before its Singapore premiere.
Even though its glamorous depiction of Singapore could give its tourism a boost, it was not entirely welcomed.
"To us, 'Crazy Rich' should not just be about the opulence and luxury showcased in the film, but Singapore's actual richness in terms of our diversity," said Singapore Tourism Board's spokesperson Lynette Pang.
As is true anywhere, in Singapore, the super-rich with their extravagant lifestyles are a tiny, privileged minority.
Writing in the South China Morning Post of Hong Kong, which has more than its share of tycoons and elite wealthy families, commentator Alex Lo said he enjoyed the film with "guilty pleasure."
"But amusement aside, it strikes me the whole purpose of the film exercise is to glamorize and legitimize the super-rich in Asia, many of whom are ethnic Chinese in real life," he said.
"Should we, as the audience and hoi polloi, be tantalized and awed by the display of mega wealth, which has been described, by most accounts, as accurate. Or should we rather be repelled?"
Many in Asia looked forward to seeing some familiar faces.
In Manila, the Philippines, an audience of mostly movie writers, critics and bloggers and some celebrity guests were thrilled and applauded when two Filipinos in the film, Kris Aquino and Nico Santos, appeared in their roles during an advance screening Monday night, said Ruth Navarra-Mayo, an editor of the Lifestyle section of the newspaper Philippine Daily Inquirer.
Santos plays a fashion designer. Aquino, a popular actress and daughter of late pro-democracy champions in the Philippines, played a member of Malay royalty.
A former American colony, the Philippines has a highly Westernized culture and Hollywood movies are a local entertainment staple. Audiences would welcome more films with Asian themes and characters, Navarro-Mayo said.
"We want to see Asian actors on Asian topics," Navarro-Mayo said. "We're hungry and ready for this type of film."
___
Associated Press writer Jim Gomez in Manila contributed to this report.