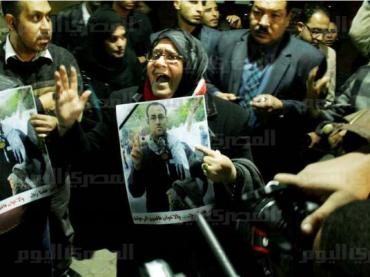 Egypt was ranked among the top 10 worst jailers of journalists in 2013, according to a census released by the Committee to Protect Journalists.
The year 2013 was the second worst year on record, after 2012, for the number of jailed journalists, with a total of 211 journalists behind bars compared to 232 in the previous year.
After reportedly jailing no journalist in 2012, the census reports that Egypt jumped up to ninth place in 2013 prison census, jailing five journalists.
Following the ouster of President Mohamed Morsy on 3 July 2013, the military-supported government detained dozens of local and international journalists, particularly those viewed as critical of the government or sympathetic to Morsy and the Muslim Brotherhood. Most were freed.
Also topping the list are Turkey, Iran, China, Eritrea, Vietnam, Syria, Azerbaijan, Ethiopia.
Turkey stands as the world's leading country in silencing reporters with 40 jailed reporters. Iran is ranked second with almost 35 detained reporters compared to 45 in 2012.
In China there are about 32 reporters, editors, and bloggers are imprisoned, which is the same number as in the previous year.
Journalist crack down
Over the last five months since the ouster of Morsy, the interim government has cracked down on journalists, and political polarization has been evident with the suspension of many Brotherhood-leaning media outlets and TV channels.
Moreover, security officers have detained dozens of local and international journalists and photojournalists, most of them have been freed, but still few are still behind bars, accused of spreading false news or inciting chaos.
According to CPJ, the first journalist imprisoned in wake of the military's overthrown of Morsy was Mahmoud Abdel Nabi, the correspondent for Rassd Online News a website owned by th Brotherhood on 3 July 2013.
Abdel Nabi was arrested while covering clashes between supporters of Morsy and supporters of the Egyptian military in the Sidi Beshr neighborhood in Alexandria. He was charged with inciting riot and possession of weapon and his trial has been delayed many times.
Few days later, Al-Jazeera Mubashir cameraman Mohammed Bader was arrested while covering clashes between Egyptian securities forces and Morsy supporters in Ramsees square. The young cameraman was sentenced to Tora prison with accusations of attempting murder and possessing a weapon.
On 14 August, during the dispersal of Rabaa Al-Adweya mosque sit-in of Morsy loyalists, security officers detained the Egyptian Al-Jazeera correspondent Abdullah Al-Shami while covering clashes during the dispersal, and was charged with possessing a weapon and sentenced to Abu Zaabal prison.
On the same day, Mahmoud Abou Zeid, a freelance photographer at the photo agency Demotix and other digital media companies, was arrested and sentenced to Abu Zaabal prison. After his arrest, Demotix sent a letter to the Egyptian authorities, confirming that Abou Zeid was covering the clashes for the agency,
With no formal charges, Metin Turan a reporter for the Turkish Radio and Television Corporation was jailed on 17 August while covering the security forces attack on Morsy supporters at Al-Fateh Mosque in Ramses Square, according to news reports.
Turan was imprisoned for almost 115 days but then freed, along with 83 other people arrested at Al-Fath Mosque, on 9 December pending trial.
The census did not, however, include the arrest of photojournalist Mohammed Hayan, a Syrian national who was covering a protest outside the Interior Ministry on Thursday 24 October 2013, and accused of covering the protest without a permit and being in Egypt with no legal documents.
Was really 2012 had no journalist's arrestments?
Malek Adly, lawyer at the Egyptian Center for Economic and Social Rights, says the report by CPJ is correct that 2013 experience the most violent assaults to journalists who were detained and had the largest number of killed journalists.
"But it does not mean that 2012 remained without detentions. It could be less, but there were violations and harassment to both foreign and Egyptian journalists, and we will never forget Al-Husseini Abu Deif the photojournalist who was killed while photographing one of the clashes," Adly said.
Adly named just a few of the many instances where journalists were persecuted in 2012.
For example, according to the Association for Freedom of Thought and Expression, in March 2012, as a result of continuing clashes in front of the headquarters of the guidance office at Mokattam, Mohammed Ismail a journalist at Youm 7 was arrested in front of the headquarters, while, both Ahmed Ghoneim journalist at Watan newspaper and Sherif Samir one of the ONTV Channel staff were injured by gunshots.
CNN Arabic reported that on September 2012, an Egyptian court issued the detention of Islam Afifiy, editor-in-chief of Dostour news-website of being accused of insulting President, spreading false news and incited riot Morsy. The journalist was released in August 2012.
In January 2012, Essam Shebl, a member of the Shura Council, presented a video clip within the Council to Tahrir satellite channel, that hosts a number of youth from the anarchist group Black Block. Ahmed Fahmy, the head of the Council, later sued the channel, accusing it of promoting groups sabotaging the regime.