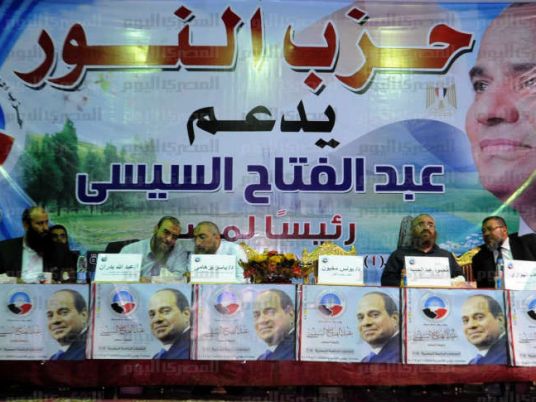 The Supreme Administrative Court on Saturday rejected cases demanding the dissolution of the Salafi Al-Nour Party, saying it has no jurisdiction to do so.
State-run MENA news agency reported that several cases were filed with the court demanding the dissolution of Al-Nour and other political parties.
Judicial sources told Al-Masry Al-Youm that the court rejected a case filed by former MP and TV personality Tawfik Okasha, in which he demanded the dissolution of all political parties.
Okasha claimed that the parties established after January 25 Revolution have made no proper contribution to political life and that they have failed to win seats in the parliamentary elections.
The court said that the Political Parties Affairs Committee is the legal body entitled to dissolve any political party, but only after due investigation by the general prosecution.
The head of the legal committee at Al-Nour party, Talaat Marzouk, said that his party is a political one, but with Islamic reference, in line with the Constitution and the law. He said that rivalry should be played out in the polls, rather than in the courts.
He added that all the lawsuits being filed against Al-Nour party in the courts of the State Council are to be rejected, as the administrative courts have no jurisdiction, according to today's ruling.
The party emerged from the House of Representatives' elections in 2015 with only 12 seats out of a total of 596. In the 2011-2012 parliamentary elections, the Al-Nour Party won the second-highest number of seats after the Muslim Brotherhood.
Al-Nour Party ran in the last elections as the only Islamist party that is still active, following the ouster of the Muslim Brotherhood government in 2013. The party frequently accused the state and media outlets of prejudice against its politicians.