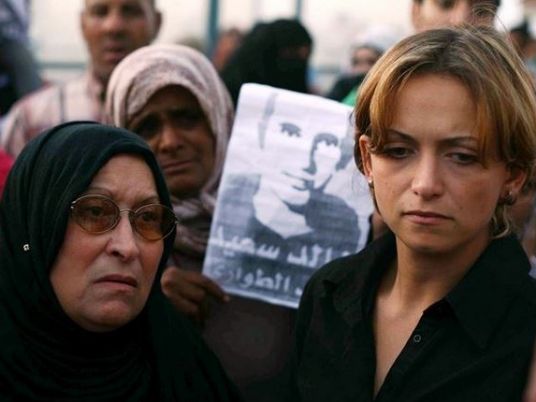 An Egyptian court issued its ruling in the lawsuit, filed by the Egyptian Center for Economic and Social Rights, on behalf of Khaled Saeed's heirs, and ordered that they be compensated with one million Egyptian pounds.
Khaled Saeed was killed on June 6, 2010 in the Sidi Gaber police station in Alexandria.
The Public Prosecution referred the two defendants to a criminal trial, accusing them of unlawfully arresting him, and inflicting the injuries described in the two forensic reports. The incident led to the launch of a page called "We are all Khaled Saeed", which later called for the gathering of demonstrators in Tahrir Square ahead of January 25 revolution in 2011.
On October 26, 2011, the Alexandria Criminal Court handed each of the defendants with a seven-year rigorous prison sentence and referred the civil case to the competent court, while the two defendants and the Public Prosecution appealed the verdict.
On December 20, 2012, the Court of Cassation accepted the appeals and the Public Prosecution, to return the case to the Alexandria Criminal Court for another circuit.
On March 3, 2014, the court handed each of the defendants a ten-year rigorous prison sentence in prison for what they were accused of, and they again appealed the verdict on April 26, 2014.
The Court of Cassation rejected the appeal on March 4, 2015, and in March 2018, a lawsuit was filed, on behalf of two of Khaled Saeed's brothers and his mother, to demand that the defendants and the interior minister, as accomplices, pay LE 2 million, as compensation for material and moral damages the family suffered as a result of what happened to Saeed.
The Ministry of Interior filed a lawsuit against the convicted policemen to compel them to pay the Ministry of Interior what the court may decide in terms of compensation in favor of the heirs.
During the handling of the case, Laila Marzouk, Khaled Saeed's mother, died, so the case was limited to two of his brothers, Zahra Saeed and Ahmed Saeed.
Sessions continued until the court issued its ruling on December 28, 2021 obligating the defendants jointly to pay the heirs of Khaled Saeed LE1 million in compensation for material and moral damages, and rejected the sub-lawsuit filed by the Ministry of Interior to compel the convicted to pay all of the compensation.