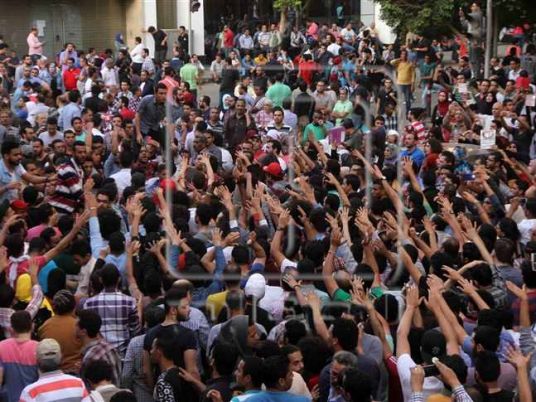 Abdeen Misdemeanor Court ordered, Monday, the 15-day imprisonment of 25 protesters arrested during Friday's protests, pending investigation.
The protests were held in objection to the handover of the islands of Tiran and Sanafir to Saudi Arabia a week and a half ago.
The investigations of the National Security Agency charged the defendants with protesting without a permit, suspending traffic, assembling and rioting.
The defendants were transferred under heavy guard from Qasr al-Nil Police Station to Abdeen Court, where they were interrogated by prosecutors. Their families gathered at the court to meet them.
The defendants denied the charges during interrogation.
The 25 protesters were arrested in downtown Cairo in protests against the recently signed demarcation agreement for maritime borders between Egypt and Saudi Arabia.
At least 100 people were reportedly arrested in various locations on Friday after some protesters clashed with police.
Among the protests on Friday was a large gathering outside the Journalists Syndicate, located in downtown Cairo. Security forces attempted to disperse the protesters, leading to clashes.
On April 8, Egypt and Saudi Arabia signed an agreement clarifying the demarcation of maritime borders between the two nations, just one of several deals signed during the visit to Egypt of Saudi King Salman bin Abdel Aziz.
In a statement last week, the Egyptian Cabinet said that the agreement places the islands of Tiran and Sanafir within Saudi territorial waters, although the agreement will need to be reviewed by parliament before it is ratified.
The two islands are of great strategic importance, being located at the entrance to the Gulf of Aqaba.