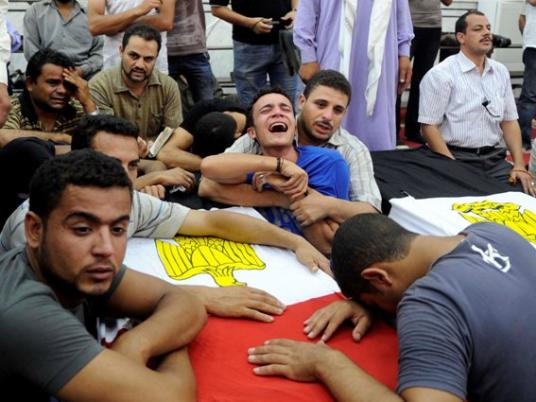 Court officials have called on President Mohamed Morsy to reveal information concerning the Rafah attack last August which claimed the lives of 16 border guards.
The State Council's Administrative Court on Tuesday demanded the president reveal the circumstances of the attack and outcomes from subsequent investigations.
Unknown gunmen killed 16 soldiers in an assault on a police station at the border between Egypt and Israel on 5 August.
Egyptian officials have previously pointed to jihadi groups in the Sinai Peninsula as potentially responsible for the attack.
Investigations have been ongoing since last year, however nothing has been officially announced yet.
In an interview with the state-run Al-Ahram newspaper published on 6 June, President Mohamed Morsy said that "not announcing the [proceedings of] investigations doesn't mean [there is a] non-existence of transparency."
"These cases [relate to] national security. When investigations [have] concluded we [will] announce details," Morsy said, adding that announcing details prematurely could "harm, not benefit" investigations.
The court on Tuesday meanwhile called on Morsy, Prime Minister Hesham Qandil, Interior Minister Mohamed Ibrahim, and head of the General Intelligence Service Raafat Shehata to also disclose the circumstances of the abduction of 4 police officers in Rafah on 4 February 2011.
In an interview with the privately-owned satellite channel CBC last week, Interior Minister Mohamed Ibrahim was unable to provide solid answers to questions over the whereabouts of the kidnapped men.
Differing security assessments – with some claiming the abducted policemen were now dead, others that they may still be found – had given authorities contradictory signals.
The case is becoming harder to solve as more time passes, Ibrahim said.
Families of the disappeared policemen have reportedly met with Morsy and Ibrahim separately to discuss the issue.
Edited translation form Al-Masry Al-Youm