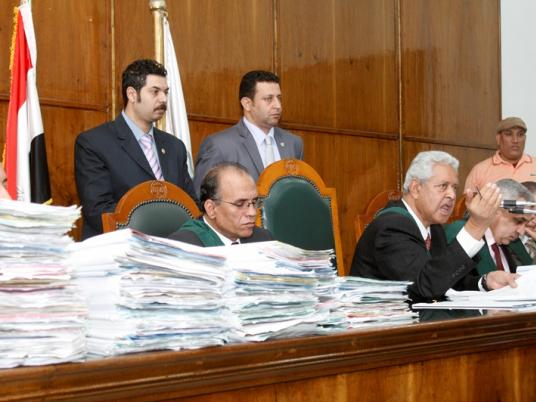 The State Council Administrative Court has set 23 October to issue a decision on the dissolution of the Constituent Assembly.
A court session headed by Judge Fareed Nazieh Tanagho was held throughout Tuesday. There were altercations between the Muslim Brotherhood's lawyers and lawyers who demanded the dissolution of the Constituent Assembly.
Lawyer Mohamed al-Damaty, who was acting against the dissolution of the assembly, described the lawyers who demanded its annulment as ignorant of the State Council laws and as having no status or interest in filing the lawsuit.
Hafez Abu Seada, head of the Egyptian Organization for Human Rights, dismissed Damaty's claim. Abu Seada said that he was adversely affected by the current assembly as he had previously submitted a request to join the assembly as head of a prominent NGO and his request was ignored. He added that Tarek Khedr, a professor at the Police Academy, with whom Abu Seada filed the lawsuit challenging the formation of the assembly, was also an excluded nominee.
Wael Hamdy, former MP Hamdy Fakharany's lawyer, said he objected to the inclusion of 10 advisers and aides to President Mohamed Morsy in the Constituent Assembly, pointing out that each received LE20,000 monthly.
Fakharany submitted to the court a document that included names of 37 current and former MPs who are currently members of the assembly.
Parliament, including both the People's Assembly and the Shura Council, elected the current assembly, tasked with drafting a new constitution, on 12 June. The Supreme Constitutional Court had dissolved a previous assembly on the grounds that it did not sufficiently represent all segments of society.
The second assembly was announced by former parliamentary speaker Saad al-Katany two days before the dissolution of the People's Assembly. Constitutional law experts agree that the laws and decisions issued by the Parliament before it was dissolved remain valid.
The current assembly is made up of four chairmen of political parties, two deputy party heads, a general secretary of a party, seven women, seven youth, 10 Islamic scholars, eight Copts, 28 constitutional experts, jurists, representatives of judicial bodies, 10 writers and thinkers, seven representatives of professional syndicates, 30 university professors, four representatives of labor unions, and a representative of Egyptian expatriates.
At the time of the assembly's formation, members of Parliament said that the nominations came upon the recommendation of various bodies and parties. Critics, however, say that the Islamists who formed a parliamentary majority also dominated the newly-formed assembly, electing Islamist-leaning figures. Some of the institutions that submitted nominations to Parliament, they say, were also dominated by Islamists.
Edited translation from Al-Masry Al-Youm