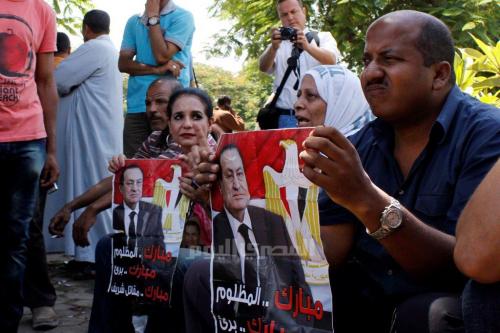 The Court of Cassation, headed by Judge Ahmed Abdulqawy and held at the Police Academy, acquitted Thursday former President Hosni Mubarak from the charge of killing protesters during the January 25 revolution, and rejected all civil lawsuits filed by the families of victims in the case.
The courtroom turned into an arena of chants by Mubarak supporters who congratulated the former president on his acquittal.
"Congratulations on acquittal Mr President!", and "Long live justice!" they chanted.
Alaa Mubarak, son of the former president, disappeared from the courtroom just before the verdict, while traces of happiness were drawn on Mubarak's face.
"Thank God for everything. The verdict did justice to President Mubarak," Farid al-Deeb, Mubarak's lawyer, said after the verdict.
The prosecutor claimed that, during the January 2011 uprising, Mubarak agreed with Habib al-Adly, the interior minister at the time, to kill demonstrators; and called for punishing him in accordance with the law.
Mubarak denied the charges.
Civil plaintiff Othman Hefnawy had called for modifying the charge from "inciting" the killing into the actual killing of demonstrators. He called for President Sisi's testimony in the case, in his capacity as head of the military intelligence at the time, and demanded a compensation LE100,000 for each victim.
Deeb mentioned that Adly and his assistants have been acquitted of the same charges brought against Mubarak with the same evidence provided by prosecutors.
Alaa and Gamal Mubarak, in addition to a number of supporters were allowed to attend the trial; while others waited outside the academy for the verdict, carrying Mubarak's images.
Edited translation from Al-Masry Al-Youm