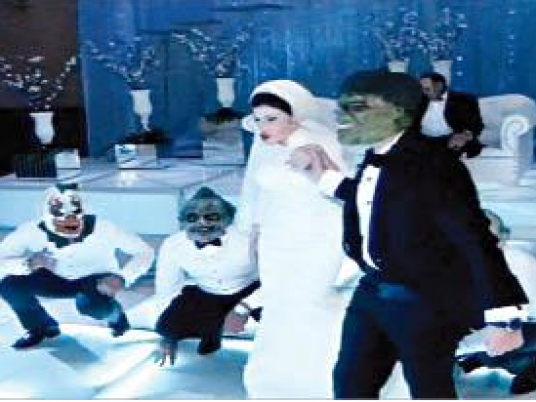 They wanted to be unique and celebrate their wedding in an unordinary way but they never expected their idea to receive the interest of thousands of people as a video of their wedding went viral on social networking websites.
The couple, Islam and Diana, disappeared as the buffet was opening at midnight for their guests before they reappeared with some of their friends wearing frightening masks and danced to the Graveyard Symphony from the popular wrestler the Undertaker.
A few seconds later, the frightening music turned Shaabi and the scene completely changed amid the surprise of guests.
"The masks idea was not expected to cause this hustle or be welcomed that way on social networking websites," Islam said expressing his happiness as the video of his wedding was circulated by thousands on Facebook and Twitter.
"The masks idea came to my wife's mind when my wife found a page on the social networking site (Facebook) called (Maskolgy), hiring masks in weddings," he added.
"It was a moment of crazy happiness," said Diana.
"I never thought the idea would be welcomed to that extent by guests and users on social networking websites," she added. It was a surprise to my dad even, Diana pointed out.