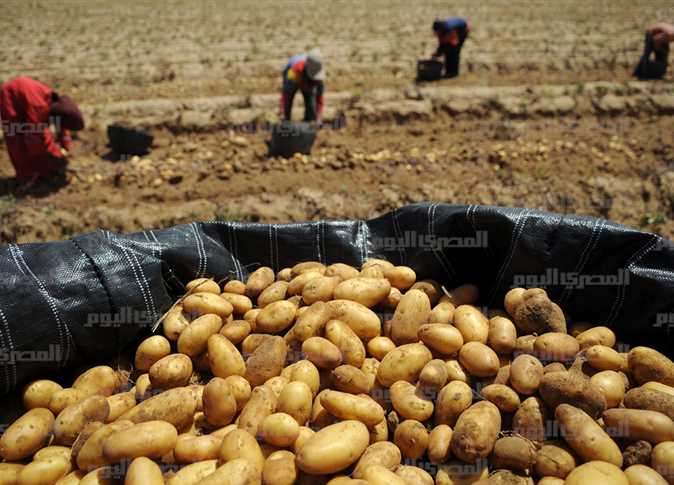 Wholesale prices for potatoes have decreased sharply over the past week, driving Egyptian farmers to abandon their own crops due to lockdown polices from importing countries harming the Egyptian product, saturating the local market and causing low demand.
Farmers in Upper Egypt's Minya governorate have dumped large amounts of their crop after prices collapsed from prices from LE10 (US$0.64) per kilogram to 70 piasters (US$ 0.045) per kilogram, forcing them to clear land to grow other crops to compensate their loss.
Experts claimed that the crop is subject to a dumping policy and warned that farmers would be reluctant to grow potatoes next season, calling for urgent intervention by the government to protect food security.
According to the Agriculture Ministry, Egypt grows about 400,000 feddans of potatoes distributed over three agricultural seasons: the first of which is the summer season in December and January, harvested in May, then the Nile potato season in June harvested in October and the winter season from August-September harvested in December.
The Vice President of the Chamber of Vegetables and Fruits at the Federation of Egyptian Chambers of Commerce Hatem al-Naguib urged the government to intervene.
He called for the utilization of rational policies to help achieve balance between supply and demand to protect potato producers or other agricultural products and ensure agricultural sustainability.
Speaking with Al-Masry Al-Youm, Naguib explained that potatoes have been subjected to heavy dumping due rising productivity and a failure to open new markets and further export the crop.
This has been reflected in the falling price for a kilogram,  he said, ranging from 50 to 150 piasters in the Obour market.
The head of the Agricultural Businessmen Association, Samir al-Najjar, said that the concerned authorities, headed by the Agriculture Ministry, must intervene to save the crop.
The Egyptian Agricultural Quarantine's head Ahmed al-Attar called for plans to expand local marketing for the potato crop and resolve this low demand crisis by raising awareness of its importance in food and health benefits.
And Hussein Abu Saddam, head of the General Syndicate of Farmers, added that one rising for increasing supplies of potatoes is due to greater expansion in cultivation areas compared to last year coupled with suspended exports due to the pandemic.
Edited translation from Al-Masry Al-Youm