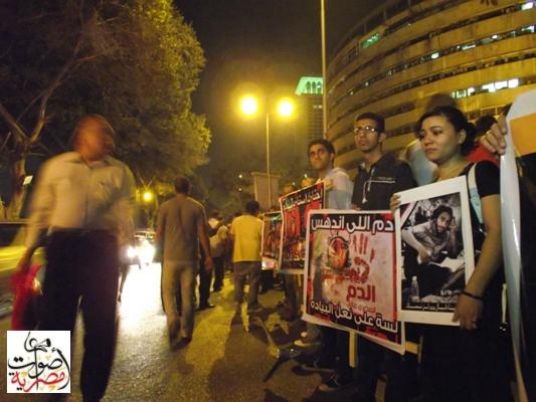 The Interior Ministry denied Coptic youth activists a permit to hold a protest ahead of the fifth anniversary of the deadly Maspero clashes, citing "security reasons."
The Maspero massacre took place on October 9, 2011, during the rule of the Supreme Council of the Armed Forces (SCAF). Clashes between the army, deployed in the vicinity of the Maspero State Television Building at the time, and mostly Coptic protesters left 27 people dead.
The protests that were violently dispersed by military forces were staged against the demolition of an allegedly unlicensed church in Upper Egypt.
The Maspero Youth Union said in a statement on Tuesday that it had resorted to the Boulaq police station to obtain a permit to protest on the anniversary of the Maspero events as required by the controversial protest law.
The Interior Ministry, however, denied them the right to protest for "security reasons."
"We are entirely convinced that the protest law restricts our right to protest…we were certain the security forces will deny us the permit," the union said.
"Not only did they reject the request, but they also threatened some of the activists, which reflects how the Egyptian regime fears people taking to the streets," the statement added.
The denied protest aimed to serve as a reminder of the tragic events, and to renew calls for retribution.
The statement said it would appeal the decision at court, however the anniversary would have passed before litigation procedures are over.
The widely criticised protest law was issued in November 2013 by then Interim President Adly Mansour amid a tense political environment characterised by recurrent protests.
Since its adoption, hundreds have been handed down prison sentences and hefty fines for violating the law and protesting without obtaining prior approval from the interior ministry.
Rights groups repeatedly condemned the law, describing it as an encroachment on the right of assembly, and the freedom of expression.
Egypt's Supreme Constitutional Court (SCC) is currently considering the appeals made against four articles of the law and is set to rule on one of those appeals on December 3.
Article 73 of Egypt's constitution states that "citizens shall have the right to organize public meetings, marches, demonstrations and all forms of peaceful protests, without carrying arms of any kind, by serving a notification as regulated by Law..The right to peaceful and private assembly is guaranteed without need for prior notification. Security forces may not attend, monitor or eavesdrop on such meetings."