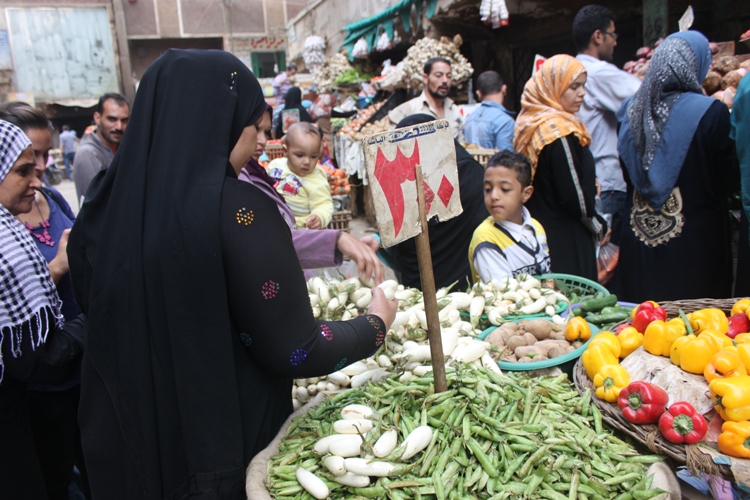 Um Islam, of the informal Ard al-Lewa neighborhood in northwest Giza, knows just where to find the cheap and good-sized eggplants in her local market.
After making her way past a series of stalls offering baskets of the oblong vegetable, many of which she deemed either too small or too expensive, she decided to buy from one seller at the end of the street whose pearl-colored eggplants are just the right size for hollowing-out and stuffing with rice and spices for the traditional dish mahshi.
"Ah, these will do," she says, calling for a bag and beginning to sort through the mound.
Um Islam's shopping and cooking skills were on display last week at "El Matam El Mish-Masry," or "The Non-Egyptian Restaurant," an art project by Spanish artist Asuncion Molinos Gordo which focuses on issues of food sovereignty in Egypt.
The temporary restaurant that Molinos has established in the Artelllewa art center has been open for a few weeks now, with each week focusing on one dimension of the food problems the population faces.
The first week, all the dishes that were served (which range in price from LE1 to LE5) were made using high-quality produce, which is usually either exported directly to Europe or purchased by the local elite.
The second week, the restaurant hosted women from the neighborhood, like Um Islam, cooking under the restrictions of their typical family budgets and using the lower-quality vegetables found in local markets.
For the first night, koshary was on the menu. The next day was mahshi.
During the second week, the community was also encouraged to come buy the food for LE3, and take in the women's culinary skills on display.
An afternoon spent with the head chef Um Islam and her friends acting as assistant chefs, Um Mohamed and Um Karim, demonstrated how constraining the common Egyptian food budget of LE400-600 per month can be, but it also showed the resourcefulness of those who live by it, an ability Molinos frequently describes as "magical."
In one example, Molinos had been considering adding chicken to the Mahshi meal, and she asked Um Islam if that might be possible according to the budget.
"No, that's not feasible," she said. "No chicken, not for that price. Maybe we can have salad along with it instead."
An innate aversion to waste is also apparent. Before heading to the market, Um Islam took inventory of the leftovers from last week's meals: some peppers, onions, tomato paste, and black lentils.
Um Islam is nonchalant about how she manages to put food on the table every month.
"It's just something that we have to deal with," she said. "I don't think about it much."
She credits her sister-in-law with teaching her recipes and how to make ingredients stretch.
Molinos' project prods the harsh food realities that Egyptians have had to come to terms with in recent decades.
Like in many other parts of the world, Molinos says, the green revolution, which modernized agricultural practices and farming, has not been kind to the people of Egypt. She brings up this idea of international solidarity on food issues in many of her conversations with local community members.
"We're all one, "she says. "This is not something that has to do with what nationality you are."
The globalized economy has not particularly looked out for the majority of Egyptians, either. Instead of enjoying the bountiful fruits of the Nile, which centuries ago earned Egypt the name of Rome's breadbasket, growing cash crops for export is favored over local staples.
As if that weren't enough, food prices have been steadily rising for decades now, and have only climbed more steeply during the political unrest of the past two years.
The Egyptian consumer price index, a measure that shows the change in the price of staple goods, rose to 124.70 index points in August 2012, up from 123.30 index points the month before, according to a report released by the Central Agency for Public Mobilization and Statistics.
Hikes of one-tenth of an index point are considered significant, so the increase in prices in the last year is large by the index's standards. In 2002, the consumer price index was 82 index points. In 1990, it was 33.15
It's a situation that doesn't exactly breed optimism. But Molinos' project is nothing if not bravely optimistic. The small and brightly painted restaurant, complete with a framed picture of Molinos' grandfather, who was a farmer in Spain, is tucked away in one of the city's informal settlements, where a large number of people live, work and eat, largely forgotten by the formal state.
In this spirit, before the restaurant started serving dishes to the community made by homegrown chefs, Molinos made sure she knew what her chefs thought about food, economy and politics.
On the floor in the room in the back of the restaurant, over cigarettes and tea, she joined the women as they talked. Um Karim washed and sorted the lentils, Um Mohamed hollowed out eggplants for the next day's meal.
She told them the quality of the food they can buy now is inferior to that which is shipped abroad. No one was surprised.
"A long time ago, food was natural," says Um Mohamed. "Now it is all chemical, and half the people are sick."
Now, Um Karim says, she heavily scrubs her raw chicken meat and lets it sit in a mixture of lemon juice and water, or else it starts to smell rotten.
"Way back when, local chicken meat smelled fresh, not bad," she recalls.
There was also, of course, the matter of price. The women say they're increasingly paying more money for worse quality food.
Washing the short-grain local rice to be cooked for that night's dinner, Um Karim says even the most basic rice that had been purchased for the day's koshary was higher quality than she could afford.
"I don't even get this rice," she said. "I get the even cheaper local rice."
They imagined how the country would react if prices continued to rise.
"It should be, after the revolution, things got cheaper," says Um Mohamed. "But just wait a bit, when things started to get even a little bit more expensive, after Morsy hasn't done anything. Then, there will be a second revolution, and it will be worse."
It's feelings like these that Molinos hopes the restaurant will help coalesce eventually into some kind of political force that could fight for food sovereignty, though she and the women acknowledge that it would be a difficult fight.
"We don't need to think about success," Molinos says. "Because if we worry about that we'll never get anywhere — we need to think about what we need to do."
The third week, Molinos is transitioning into the art, not food-heavy component of her show — she'll be making food-like dishes from whatever materials she can find within a short distance of the restaurant and photographing them, a sad reminder that the neighborhood is built on what used to be rich agricultural land.
For the last week, she'll be excavating the surrounding area to look for the lost agrarian culture, with the help of an Egyptologist, putting that on a plate and photographing it.
She's hoping the residents will keep interacting throughout it all.
After a week in operation, some of the residents certainly seemed to be getting used to the restaurant's presence.
"I've been approached by a couple people in the community, saying I should keep it going, as a restaurant, as a business," Molinos said. "I say thank you, but that's not what this is about."
She's grateful that at least she has people talking.
"That's what this is all about, starting a conversation."