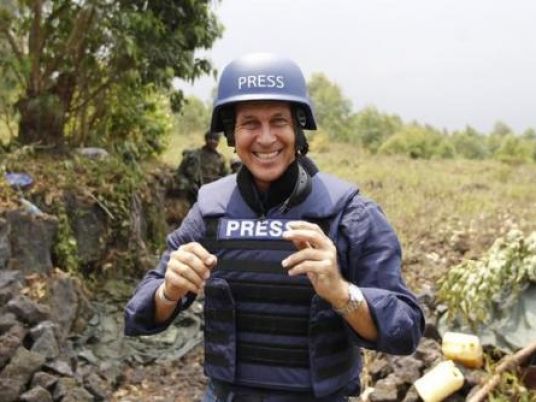 Three journalists convicted of aiding a terrorist organization while covering unrest in Egypt for news agency Al-Jazeera publicly appealed to Egypt's president on Tuesday, asking him to pardon them.
Australian Peter Greste said they also were seeking support from world leaders attending the UN General Assembly.
"Once I was released from prison, I thought I was going to be free," Greste said at a news conference at the Manhattan headquarters of the
Committee to Protect Journalists
. "It turns out that I'm not; I still have this conviction and all of its consequences hanging over my head."
Last week, before leaving for New York, Egyptian President Abdel-Fattah al-Sisi pardoned other journalists still in Egypt who were found guilty of broadcasting what authorities said were false reports that tarnished the country's image. The pair who received the pardon are Canadian-Egyptian Mohamed Fahmy and Egyptian Baher Mohamed. Four other convicted in absentia remain at large in Qatar: Mohamed Fawzy, Alaa Bayoumy, Khalil Bahnasy and Anas Abdel Wahab.
Greste was not on the list, nor were the two others with him Tuesday in New York: Dominic Kane, an Al-Jazeera producer, and Sue Turton, a former Al-Jazeera correspondent.
They remain convicted criminals, tried in absentia for allegedly colluding with the Muslim Brotherhood group linked to Al-Jazeera's owner, the government of Qatar.
Since the 2013 military overthrow of former President Mohamed Morsi, hundreds of his supporters have been killed in clashes with security forces and thousands detained, including almost the entire leadership of his group, the now-outlawed Muslim Brotherhood. Egypt maintains that Qatar is fueling unrest in Egypt through its support to Islamists, including the Brotherhood.
The 49-year-old Greste, arrested in Cairo in 2013, was freed in February after more than a year in Egyptian detention but was later sentenced to three years in prison.
He said Tuesday that top-level US officials backed by President Barack Obama are working to resolve the case.
Turton, a Briton, said Britain's Foreign Office told her and the British-born Kane "that there's an awful lot going on behind the scenes" on their behalf.
Egypt could still go after them in certain countries in Africa, the Middle East and Europe that have treaties with Cairo allowing them to extradite terrorism suspects.
"We run that same risk," Greste said. "That uncertainty makes this a real problem."
He said the three have approached Egyptian authorities to try to meet with them directly but have received no response so far.
In the eight months since his release, he said he's spent most of his time lobbying to clear himself and the others of the charges, "but I'm going to try and find a way of working."
Though his home base is Nairobi, Kenya, "I've been living in other people's spare rooms and in hotels."
Greste noted that the Egypt case is emblematic of the increasing erosion of press freedom that extends from Australia to Ukraine and even the United States — often revolving around national security concerns.
Particularly in the war on terrorism, "journalists have become the battleground."