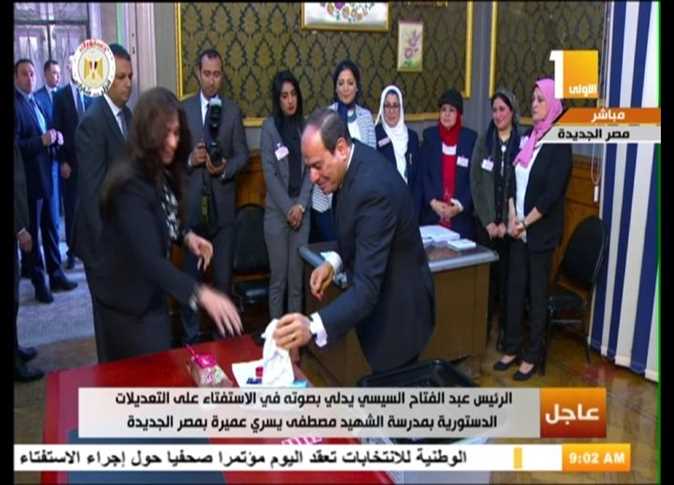 Polling centers in Egypt received their voters on Saturday at 9 am for the referendum on the constitutional amendments, which the parliament passed on Tuesday with a majority of 531 MPs.
Egyptian President Abdel Fattah al-Sisi cast his vote in the referendum on the constitutional amendments at Martyr Mostafa Yousri Emeira School in Heliopolis, in the first moments of voting in Egypt.
Nearly 61.34 million Egyptians are eligible to vote in the referendum in 368 constituencies with 10,878 polling centers across Egypt.
The referendum continues until Monday 9 pm.
Voting on the referendum for Egyptian expatriates started on Friday at 140 Egyptian diplomatic missions abroad. Thousands took to the polling centers to cast their votes, mostly women.
Egyptian Prime Minister Mostafa Madbouly also cast his vote in the referendum on the constitutional amendments at al-Sheikh Zayed Hosteling Secondary Advanced School.
"I'm keen to participate in the referendum as an Egyptian citizen, and I demand all Egyptians to participate positively in the referendum with transparency," Madbouly said in remarks to reporters after casting his vote.
Madbouly stressed that participating in the referendum on the constitutional amendments, which was approved by the House of Representatives, is a national duty, which must be respected by all to express their opinion freely in a full democratic environment.
The Prime Minister called upon the masses of Egyptians who have the right to vote to exercise their constitutional right, saying: "Participation in the referendum is a message to the world, reflecting the climate of stability and democracy we are currently living in."
The amendments include a transitional article that allows the current president to remain in office until 2024. The current president can run for a second term of six years, possibly ruling until 2030.
The proposed constitutional amendments included the implementation of a senate, a second chamber for parliament, a women's quota in parliament that designated female presence of no less than 25 percent of the members, the maintenance of youth and special percentages, appropriate representation of workers, farmers, youth and Copts, extending the presidential term in office from four to six years, and the appointment of one or more deputies to the president.
Edited translation from Al-Masry Al-Youm