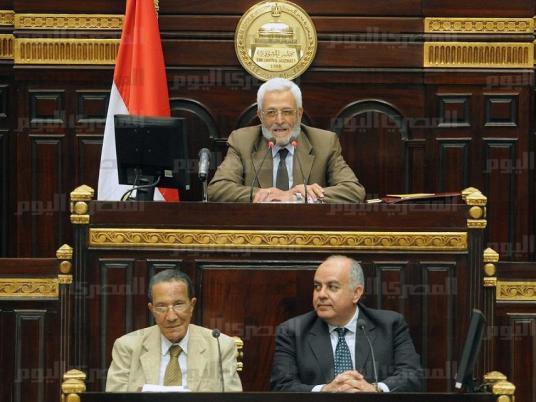 The Constituent Assembly tasked with drafting the new constitution has agreed to preserve Article 2 of the 1971 Constitution without amendment, and that parliamentary elections would be held within 60 days of approval of the new constitution. The assembly also agreed on how amendments can be made to the constitution in the future.
Article 2 of the 1971 Constitution states that the principles of Sharia are the main source of legislation. The word "principles" has been interpreted in a newly introduced article as meaning the basics of the Sharia jurisprudence.
They also agreed that Christians and Jews may follow their own religious protocols in matters of personal status, and choose their spiritual leaders freely.
Also, the assembly agreed that Al-Azhar should be independent.
The liberals and the Muslim Brotherhood had disagreed with the Salafi members who demanded that Article 2 state that it is Sharia, rather than just its principles, that should be the main source of legislation.
Also on Thursday, the assembly's Political System Committee agreed to devise a transitional article for holding parliamentary elections within 60 days of adopting the new constitution by referendum.
The elections would be judicially supervised by the High Elections Committee until the formation of the Electoral Commission provided for in the new constitution.
Assembly president Hossam al-Ghariany said earlier this week that he expects the constitution to be completed in November.
Mohamed Mohie Eddin, rapporteur for the National Security Committee, said the committee agreed on Wednesday to rename the Shura Council as the Senate. Members would have a three-year tenure, and it would exercise new powers as layed out in the new constitution. It also agreed that the president appoints only ten of its members.
He also said the committee has defined two means by which the constitution can be amended in the future. The president of the republic can put forward an amendment, or one third of the members of parliament can do so, provided they have the approval of the remaining two thirds. In both cases, the amendments would be put forward to a referendum.
The Supreme Administrative Court in September upheld a ruling issued by the Supreme Constitutional Court to dissolve the People's Assembly, the lower chamber of parliament, because of the unconstitutionality of some articles of the parliamentary elections law that enabled party candidates to compete for independent seats.
Edited translation from Al-Masry Al-Youm