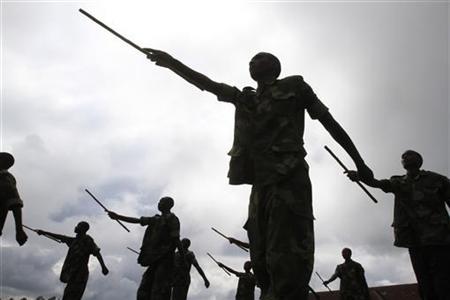 Congolese troops were fighting back on Thursday against rebels who rejected calls from African leaders to quit the eastern city of Goma, captured earlier this week.
Thousands of people fled the area of clashes around the town of Sake, as M23 rebel fighters rushed from Goma to reinforce their positions there against a counter-offensive by the army.
The rebel movement, widely believed to be backed by Rwanda, has vowed to "liberate" all of the vast, resource-rich country after taking Goma, a provincial capital on the Rwandan border, ramping up tensions in a fragile region.
The head of M23's political arm said the rebels would not retreat despite the call to do so from governments in central Africa, preferring to hold their ground until President Joseph Kabila opens direct talks with them: "We'll stay in Goma waiting for negotiations," Jean-Marie Runiga told Reuters in the city.
"They're going to attack us and we're going to defend ourselves and keep on advancing."
Rebel fighters seized the sprawling lakeside city of a million people on Tuesday after government soldiers retreated and UN peacekeepers gave up trying to defend it.
The next day the rebels moved in unopposed to Sake, a strategic town about 25 km west along the main road. It was there that government troops and allied militia were hitting back in fighting the flared up late on Wednesday.
Regional and international leaders have been scrambling to halt the fresh conflagration in the Great Lakes, a region of many colonial-era frontiers and long a tinderbox of ethnic and political conflict, fuelled by mineral deposits.
On Wednesday, foreign ministers from the states of the Great Lakes region demanded the rebels leave Goma and halt their advance, and Kabila — in a concession to the rebels that fell short of opening talks – promised to look into their grievances.
"I'm not confident, because I've already waited for three months in Kampala for talks," Runiga said of a recent spell in the capital of Uganda, which has tried to mediate in the Democratic Republic of Congo (DRC).
Neighboring Uganda and Rwanda had no right to make demands of M23, added the group's political chief, who styles himself Bishop Runiga, a post he holds in several Congolese churches.
He said M23 wanted aid groups to return to Goma, after they evacuated during the fighting. Reuters correspondents in the city saw some aid workers driving in the town on Thursday.
Renewed clashes
Thousands of residents fled the town of Sake on Thursday, a Reuters correspondent in Sake said, as gun battles continued.
"It's no problem, it's just war," Vianney Kazarama, an M23 spokesman, said by telephone, adding that the clashes had begun late on Wednesday.
Several truckloads of M23 fighters sped toward Sake from Goma as the fighting raged on Thursday afternoon.
M23 takes its name from a peace deal, signed on 23 March 2009, that was meant to bring former rebels into the national army, but which the group says the government has violated.
The group has since sought to broaden its support in Congo by tapping into popular frustrations over the government's slow pace of reform in one of the world's least developed and most turbulent nations.
But the effort has faced hurdles amid mounting evidence of Rwanda's involvement in the insurgency.
Kabila's government insists the M23 rebellion is a creation of Rwanda, which has intervened repeatedly in Congo over the past 18 years — and the claim is backed by UN experts who say Kigali is both commanding and supporting the insurgency in part to control the region's minerals.
Many of Rwanda's international allies, including the United States, Sweden, the Netherlands and the European Union have suspended some aid over the allegations.
Britain, which unblocked part of its frozen aid in September citing Rwandan efforts to solve the crisis, said it was now considering new evidence that could affect future aid.
"We judge the overall body of evidence of Rwandan involvement with M23 in the DRC to be credible and compelling," British Foreign Secretary William Hague said in a statement.
"These allegations will necessarily be a key factor in future aid decisions to the Government of Rwanda."
The United Nations on Wednesday defended its failed effort to prevent rebels from seizing Goma, saying its helicopters had fired hundreds of rockets at rebels but were unable to beat them back as their ranks swelled dramatically.
Runiga said M23 had the capacity to hang on to Goma, after its force was bolstered by mutinying Congolese soldiers from Kabila's army, the FARDC.
"Absolutely," he said. "Firstly we have a disciplined army, and also we have the FARDC soldiers who've joined us.
"They're our brothers, they'll be retrained and recycled then we'll work with them."