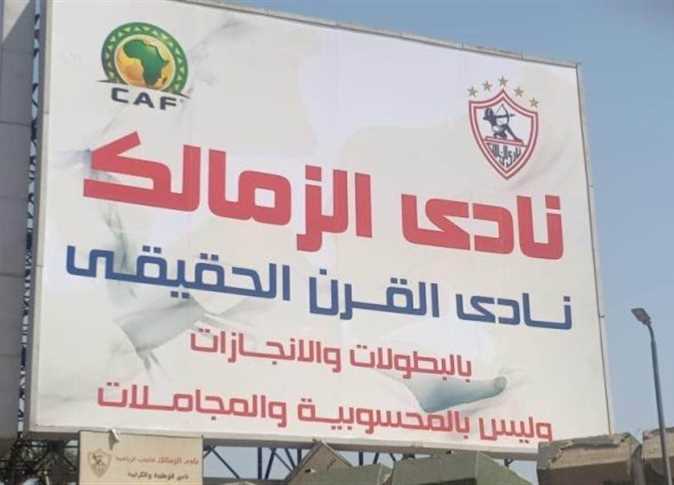 The Confederation of African Football (CAF) sent an official letter to the Zamalek Sporting Club demanding that it remove the CAF logo from a banner attached to the club's walls within 48 hours, and threatening to take legal measures if the sign is not removed.
The Zamalek Club's Board of Directors, headed by Mortada Mansour, is currently making new copies of the banners without the CAF logo.
The banners read: "Zamalek Sporting Club, the real club of the century: championships and achievements, not favoritism and compliments."
"Club of the Century" is the official slogan of Al-Ahly Club, Zamalek's biggest rival, whose officials have objected to the banners, considering it a violation of their official slogan.
The board of directors of the Zamalek Club denied any dispute with the CAF, adding that their dispute was with former president of the CAF Issa Hayatou, who undeservedly granted the title of the "Club of the Century" to Al-Ahly Club as a compliment.
According to a statement issued by the Zamalek Club board, the president of the club respects the letter sent by CAF regarding the federation's logo that was placed on the banners of Zamalek Club.
The Zamalek Club board removed the banners and sent them to the company that designed them to remove the CAF logo, the statement added.
The new banners with the same slogan will be hung in a few days, the board said.
The statement continued: "The Zamalek Club's board of directors, headed by Mortada Mansour, seeks to restore the rights of the club, its fans and its members to the title of 'Club of the Century'."
It added that Zamalek has won the greatest number of African football championships, and therefore deserves the title.
A high-level source from Al-Ahly Club told Al-Masry Al-Youm that the club's legal committee, headed by Counselor Mahmoud Fahmy, was considering taking legal measures against the Zamalek Club.
The proposal will be presented to the board of directors to discuss the matter and to determine whether or not to proceed.
Edited translation from Al-Masry Al-Youm