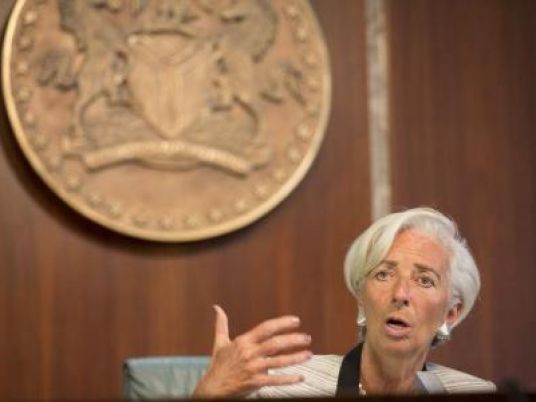 Falling commodity prices have pushed several African countries back into the embrace of the International Monetary Fund, which has an opportunity to push for reforms and inject transparency into opaque economies.
Top of the list is Angola, Africa's second biggest crude producer and third largest economy, which has not borrowed from the IMF since 2009 and just a few years ago had the Fund all but turning a blind eye to missing billions.
It is hardly alone, with depressed prices for commodities ranging from oil to copper sapping the budgets of African governments and sending them to the IMF, the "lender of last resort" which typically imposes tough conditions for assistance.
Gas-rich Mozambique and gold and oil producer Ghana, hard hit by the sour commodity cycle, both inked financial arrangements with the IMF in 2015, their first in six years, according to the Fund's website.
Ghana's was a three-year, $918 million assistance deal signed as its fiscal and current account deficits ballooned.
Africa's second-largest copper producer, Zambia, started talks in March on an aid programme. Lusaka last signed a financial arrangement with the IMF in 2008.
And the region's most industrialised economy, South Africa, which is also a major producer of platinum, gold and coal, may be forced to turn to the IMF if its credit rating gets downgraded to junk.
China this week offered Nigeria a loan of $6 billion to fund infrastructure projects but Africa's top oil producer is still expected to also seek assistance from the IMF for the first time in almost two decades.
Angola oil blues
A lot of the attention is focused on Angola, which relies on oil for over 95 percent of foreign revenue and is emblematic of the IMF's involvement in the region.
"The IMF should use the leverage it has to extract serious concessions and tangible reforms from the government. The last time [between 2009 and 2012] it merely gave this authoritarian government a free ride without any quid pro quo," said Ricardo Soares de Oliveira, an Angola expert at Oxford University.
A 2011 IMF staff report found that $32 billion, equal to 25 percent of GDP, could be not be accounted for between 2007 and 2010, but barely chided the government.
"Bearing in mind the scale of the revenues that Angola has received in the 14 years since the end of its civil war, we are probably talking about half a trillion dollars. The IMF should be very cautious about who it lends money to and under what terms," Soares de Oliveira said.
Angola, which opened talks with the IMF this week, has said it will work with the Fund on reforms aimed at improving fiscal discipline, simplifying taxes and increasing public finance transparency.
Finance Minister Armando Manuel said last week that Angola was not seeking a rescue package from the IMF but the Fund said in a statement that it could lead to a three-year Extended Fund Facility, a lifeline for economies with serious balance of payments problems.
An EFF is significantly different than the Stand-By arrangement Luanda signed up for in 2009 as it has a stronger focus on structural reforms and could force Angola to begin cleaning up its act.
"Angola is coming back to the IMF but the global political climate has changed. There will be pressure on Angola on transparency," said Tara O'Connor, executive director of London-based Africa Risk Consulting.
Asked for comment about its dealing with Angola, an IMF spokesman directed Reuters to the Fund's statements on its talks.
During the recent boom times with oil fetching over $100 a barrel, Angola was able to keep the IMF at arm's length and sought oil-backed loans from China. But analysts say China, which has its own fiscal worries, has turned off the taps at a time when oil is closer to $40 a barrel.
And Angola has found itself with less crude to sell as more of its oil flows to China for debt repayment.
Seal of approval
Zimbabwe is also banging on the IMF's door, seeking its first loan from the Fund in almost two decades as it runs out of money with nowhere to turn, including ally China.
"The Chinese have become impatient with Zimbabwe because we owe them a lot of money and we keep agreeing to pay them and then failing to repay. They are tired of us now," said John Robertson, a Harare-based economist.
Borrowing from China, which critics say ties financial assistance in Africa to access to resources, is often an opaque process that gives other donors pause. By contrast, dealing with the IMF opens other doors.
"The IMF stamp of approval becomes very important. But the IMF should follow through with the reform demands. We have to reduce the size of the government," said Robertson.
President Robert Mugabe, 92 and in power since 1980, last month agreed to major reforms including compensation for evicted white farmers and a big reduction in public sector wages as the government tries to woo back international lenders.
Bearing fruit
African economies that have already taken the IMF route are already showing positive results. Ghana for example, with an IMF deal behind it, is looking to soon launch a Eurobond.
"What we do know is that countries like Ghana, that would have faced extremely challenging conditions in the absence of an IMF programme, have generally been better reformers," said Razia Khan, Africa chief economist for Standard Chartered Bank.
"It is largely on the basis of Ghana's experience that markets have started to rally when other sovereigns even mention that they are seeking to negotiate a programme with the IMF. This suggests that for now investors are optimistic that it will bring about actual reforms," she said.