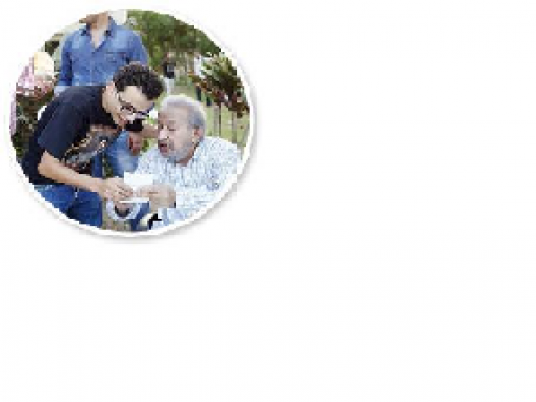 The first movie planned for 2015 is "Tawqit al-Qahera" (Cairo Local Time), starring Nour al-Sherif, Mervat Amin and Samir Sabry. Sherif and Amin have made 26 films and three TV series together over past decades. Young stars featured in the film include Ayten Amer, Dorra, Sherif Ramzy, and Karim Qassem.
The film was written and directed by Amir Ramses, and premiered and Dubai Festival.
An Iraqi company purchased the right to distribute the movie in Iraq.
Another movie scheduled for January 2015 is "Ott wa Far" (Cat and Mouse), which marks the return of writer Wahid Hamed to the cinema, since his 2008 film "al-Waad" (The Promise). "Ott wa Far" stars Mahmoud Yassin, Sawsan Badr, Mohamed Farag, Suzanne Nagm Eddin and is directed by Tamer Mohsen.
A new film directed by Mohamed Khan is slated for 2015 release. It is the first time for Khan to direct two films in two consecutive years, having recently finished filming "Abl Zahmet al-Saif" (Ahead of the Summer's Crowding).
Director Dawoud Abdel Sayed will introduce his film "Qodorat Ghair Adeya" (Unusual Capabilities) in 2015, starring Khaled Aboul Naga, Naglaa Badr and Ehab Ayoub. The film was displayed for the first time at the Dubai Festival and is scheduled for February release.
After more than 10 years of absence since his film "Sahar al-Layaly" (Sleepless Nights), controversial director Hany Khalifa is back with his film "Sokkar Mor" (Bitter Sugar), starring Ahmed al-Fishawy, Haitham Ahmed Zaky and Ayten Amer.
Director Mohamed Abou Seif who recently finished filming "Haz Wast al-Balad" (Shaking Downtown) plans to release his movie at the beginning of 2015. The movie is starring Elham Shaheen, Zaina, Anushka, Houreya Farghaly and Fathy Abdel Wahab.
Director Kamla Abu Zekry will return to the cinema with her film "Youm lel Settat" (A Day for Women), starring Nelly Karim, Elham Shaheen, Hala Sedqy, Mahmoud Hemaida, Ahmed al-Fishawy and Eyad Nassar.
After several years of postponement, Ahmed Abdallah and Sameh Abdel Aziz plan to display their movie "Al-laila al-Kabira" (The Big Night). The first scene is scheduled to be shot on 8 January and will be released during Eid al-Fitr. The film is starring Safeya al-Emary, Samiha Ayoub and 20 other costars.
"Aswar al-Qamar" (The Moon's Walls), which was postponed for five years is scheduled for this year. The movie stars Mona Zaki, Amr Saad, and Asser Yassin, and is directed by Tareq al-Erian. Erian will direct another movie named "Welad Rezq" (Rezq's Sons), scheduled for Eid al-Adha.
This year will see the first feature-length film directed by Tamer al-Saeed, titled, "Akher Ayam al-Medina" (The last Days of the City), after a nearly seven-year delay.
An edited translation from Al-Masry Al-Youm