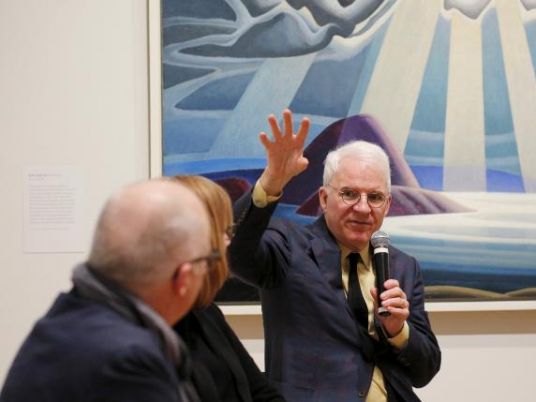 Comedian, writer, producer and musician Steve Martin can add another line to his resume: art museum curator.
The 70-year-old actor, who rose to fame on "Saturday Night Live" and starred in films including "The Jerk" and "Father of the Bride," makes his curatorial debut in Boston this weekend, with an exhibition of Canadian landscapes by painter Lawren Harris.
The collection at Boston's Museum of Fine Arts focuses on stark, slightly abstracted paintings of the Rocky Mountains and the shores of Lake Superior completed from 1921 through 1934 by Harris, who is well known in Canada but less familiar to US art lovers.
Martin joked that when he first saw a Harris painting, he mistook it for the work of American landscape artist Rockwell Kent, a contemporary of Harris', who lived from 1885 through 1970.
"I thought that this was the best Rockwell Kent I've ever seen and I looked and it was Lawren Harris," the white-haired actor recalled on a tour of the gallery on Friday. "And I thought, 20 years ago, 'Oh, I've discovered somebody,' not knowing that he was already Canada's most important artist at that time."
The exhibit, "The Idea of North: The Paintings of Lawren Harris," features 30 modernist landscapes by the Canadian painter, alongside similar work by US artists including Georgia O'Keefe and will be on display until June 12.
Martin, who has won an honorary Academy Award for his long film career as well as several Grammy Awards for his bluegrass and Americana albums, said that when he was first asked to curate the exhibit, he refused.
"My first instinct was, 'Of course not.' And I thought about it overnight and I thought, 'You know, that's an interesting proposition,'" he said. "He's the only artist I could conceive of curating because his masterpieces, all in Canada, are known, they're unknown in America and I happen to have a love of him."
Much of the exhibit features views of a stylized version of Canada's far north, typified by "Isolation Peak," which shows a lone triangular outcrop of rock looming over snow-covered hills.
"It's so moody and thoughtful, this picture, and hence emotional," Martin said.
Martin is well known for branching out into new creative fields throughout his career, but said the role of a curator was a one-time-only performance.
"I'm retired," the still boyish-looking actor said. "I'm retired from curating."